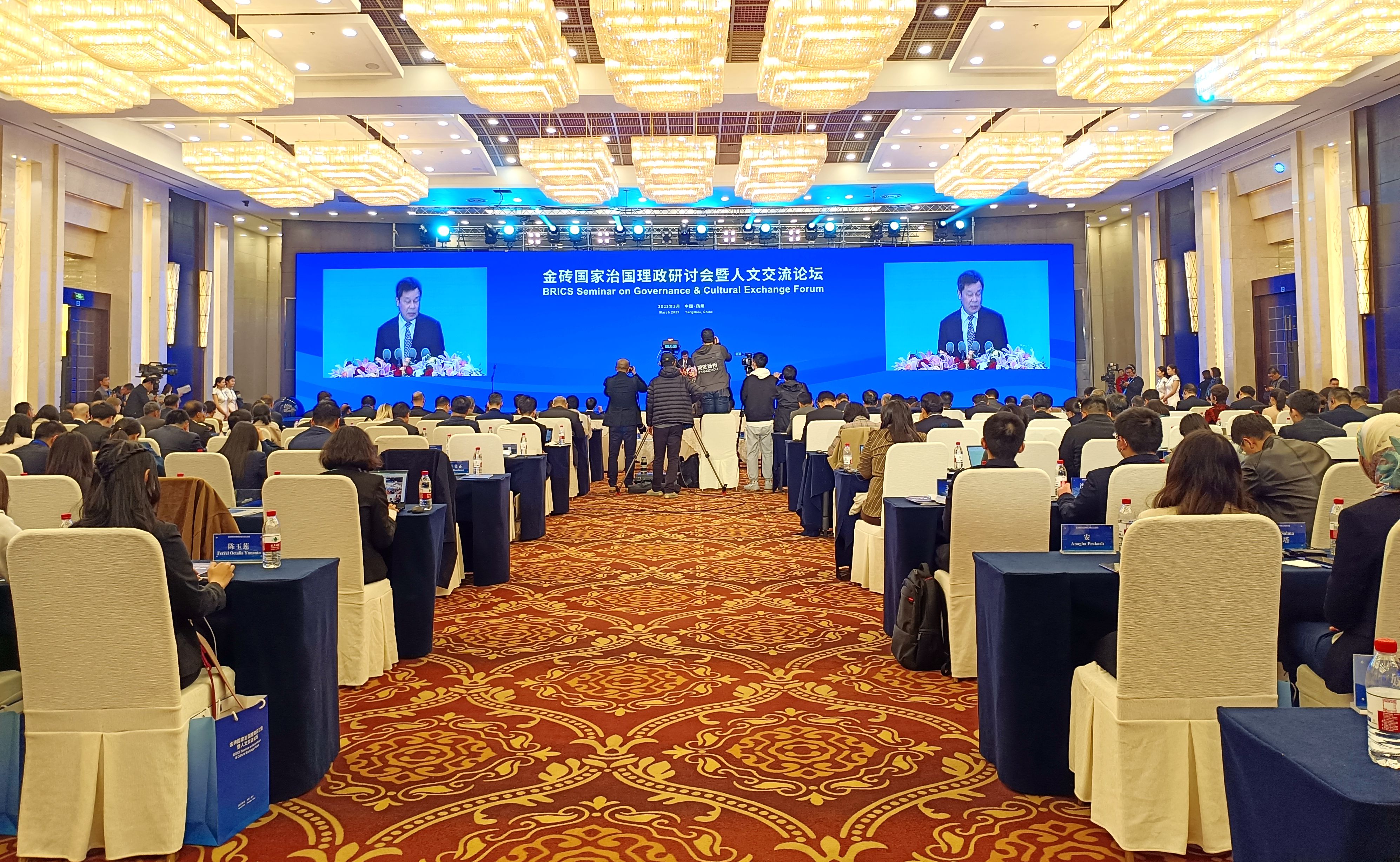 The BRICS Seminar on Governance and Cultural Exchange Forum is held in Yangzhou city, east China's Jiangsu province, March 30, 2023. [Photo by Xu Xiaoxuan/China.org.cn]

The BRICS countries are taking on a new role and providing a new model for global governance, according to a survey released during the BRICS Seminar on Governance and Cultural Exchange Forum held Thursday in Yangzhou city, east China's Jiangsu province.
The global survey, titled "BRICS in Global Governance: New Role and New Model," highlighted BRICS' significant role in safeguarding global peace and stability, fostering global economic and trade cooperation, contributing to sustainable development, and promoting cultural and people-to-people exchanges worldwide.
Sun Yeli, deputy director of the Publicity Department of the Central Committee of the Communist Party of China (CPC), emphasized development as the defining feature of the BRICS mechanism. He noted China's intention to further open its economy to share development opportunities with other BRICS countries, and the need for BRICS member countries to capitalize on their complementary resources and industrial structures to build a closer economic partnership.
Du Zhanyuan, president of China International Communications Group (CICG), shared his insights into BRICS development in the new era. He suggested that BRICS countries adhere to their own development paths, accelerate modernization and consolidate their right to independent development through innovation. In addition, he believed that the Chinese approach to modernization would offer new opportunities for the common development of BRICS countries and the global community.
Zhou Qiangwu, vice-president of the New Development Bank (NDB) established by BRICS countries in 2015, shared the bank's performance, saying it has supported 97 projects with $33 billion in loans for the infrastructure construction and sustainable development of its member countries. The NDB plans to expand its membership and bolster cooperation among developing countries to foster high-quality collaboration, Zhou added.
Fausto Pinato, president of the Brazil-China Parliamentary Front of the Brazilian National Congress, highlighted Brazil's potential for cooperation with other BRICS members in fields such as trade, agriculture, medicine and construction. He stated that a closer BRICS partnership would create more opportunities for Brazil.
Dmitry Novikov, deputy chairman of the Central Committee of the Communist Party of Russia, underscored the increasing GDP and economic influence of the BRICS on the global stage.
Since its establishment in 2006, the BRICS's economic aggregate has surged from about 10% to approximately a quarter of the world's total. In 2021, the total trade volume of BRICS countries reached more than $9 billion, while outward foreign direct investment totaled $250 billion, according to the survey.
Renowned Indian scholar Sudheendra Kulkarni commended China's role in facilitating talks to restore diplomatic ties between Saudi Arabia and Iran. He urged BRICS countries to exhibit a greater ability to resolve disputes and conflicts worldwide. He proposed the establishment of a "BRICS plus" model to accommodate numerous countries in Asia, Africa and Latin America that aspire to join BRICS.
Anil Sooklal, ambassador-at-large for Asia and BRICS at South Africa's Department of International Relations and Cooperation, praised the comprehensiveness and diversity of the BRICS partnership, which encompasses governments, civil organizations, legal associations, women's and youth affairs, media, culture, arts, sports, and film, among others.
The BRICS Seminar on Governance and Cultural Exchange Forum, hosted by the Publicity Department of the CPC Central Committee and CICG, brought together over 200 online and offline attendees from the five BRICS countries to discuss developing a new blueprint for BRICS cooperation.