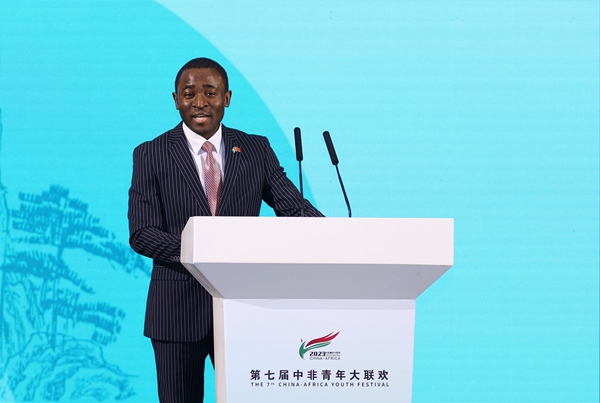 Raymond Eyo talks about China-Africa relations during a dialogue of the 7th China-Africa Youth Festival on April 20, 2023. [Photo courtesy of Raymond Eyo]
Hailing from Nigeria, Raymond Eyo, a Ph.D. candidate in International Trade at Shandong University of Finance and Economics in Jinan, east China's Shandong province, shared his experiences in China with China.org.cn while participating in the 7th China-Africa Youth Festival, which took place from April 16 to 23.
Despite his youth, Eyo harbors ambitious aspirations of becoming Nigeria's president in the future. "I want to become the president of Nigeria and contribute to my country. Given that China plays an increasingly important role in the international community and the importance of economics in national governance, I decided to study economics in China," said Eyo. Inspired by Confucius, he chose to study in Shandong, the birthplace of the ancient Chinese philosopher and educator.
Eyo obtained his Master's degree in International Business in 2019 from the Shandong University of Finance and Economics. He is pursuing his doctoral degree in International Trade at the same university.
Believing that campus-based learning alone was not enough to broaden his horizons, Eyo traveled across China, visiting nearly all its provincial-level regions to gain first-hand experience.
Following his exploration of China, the young Nigerian man became a strong advocate for maintaining and enhancing Africa's close ties and cooperation with China. He admires China's great strength in various fields, including the economy, transportation, e-commerce development, space exploration, and AI advancement.
Eyo believes Africa should engage in more exchanges with China, particularly in agricultural development, crop production, solar power development, 5G and digital connectivity, and innovative urbanization. For instance, as hunger remains a severe problem in many parts of Africa, the continent can adopt China's agricultural technologies and equipment manufacturing to increase crop output, Eyo suggested.
In addition, Eyo appreciates China's swift, decisive and result-oriented approach to development. He underscored the importance of China's rapid infrastructure construction to facilitate economic growth, noting that inadequate infrastructure is currently hindering Africa's progress.
Eyo emphasized the vast opportunities in initiatives proposed by China, such as the Belt and Road Initiative, Global Development Initiative, Global Security Initiative, and Global Civilization Initiative. He added that Africa should seize these opportunities without hesitation to elevate China-Africa relations and bolster Africa's development.