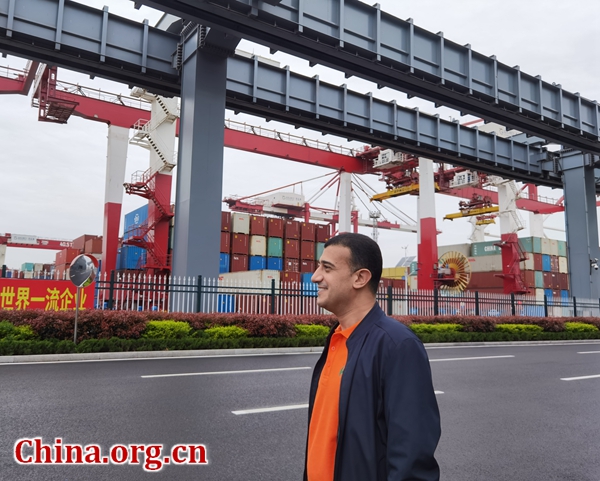 Tarek El Khouly, vice-chairman of the Foreign Affairs Committee of the Egyptian House of Representatives, visits the New Qianwan Container Terminal in Qingdao, east China's Shandong province, on April 23, 2023. [Photo by Xu Xiaoxuan/China.org.cn]
"It's amazing to see all of these machines operated by computers, and it's very important for Egypt to apply such automation technologies at our ports," Tarek El Khouly, vice-chairman of the Foreign Affairs Committee of the Egyptian House of Representatives, said during a visit to the New Qianwan Container Terminal – Asia's first fully automated terminal.
As part of the 7th China-Africa Youth Festival, Khouly and over 40 youth representatives from African countries visited Qingdao Port, east China's Shandong province, to see the automated Qianwan Container Terminal.
The Qianwan Container Terminal has the capacity to accommodate container ships capable of carrying up to 24,000 twenty-foot equivalent units (TEUs) and is designed to handle 5.2 million TEU containers annually. The terminal's automation technology reduces workforce requirements by 80%, making it 30% more efficient than traditional terminals.
Egypt is keen to develop its shipping industry, particularly given its location bordering the Mediterranean Sea and featuring Alexandria Port and the Suez Canal. Khouly believes Egypt should learn from China's automated terminal operations, which he said were highly efficient and convenient.
In addition, Khouly suggested that Egypt cooperate with China to boost port development and improve bilateral trade links. Khouly cited COSCO Shipping Ports Ltd (CSPL), a Hong Kong-listed company, investing $375 million for a 25% stake in a new container terminal at Egypt's Ain Sokhna Port. CSPL will operate the project for 30 years, and the terminal's throughput capacity is expected to reach 1.7 million TEU containers after completion.
Speaking of China and Egypt's rich histories and abundant tourism resources, Khouly highlighted the need for the two countries to jointly promote modern tourist development and attract tourists to each other's countries.
"Direct flights between Egypt and China should be increased," Khouly said. "Egypt should also draw on China's experience in tourism management and safety guarantees."
Khouly also discussed the need to enhance the synergy between the China-proposed Belt and Road Initiative (BRI) and Egypt's Vision 2030 to attract Chinese investment and strengthen bilateral economic and trade ties.
One of the flagship projects under the BRI framework is the China-Egypt TEDA Suez Economic and Trade Cooperation Zone, which has gradually become one of the important platforms for China-Egypt economic and trade cooperation.