Like many other foreigners, Rosalind Oliver's initial perceptions of Chinese martial arts came from popular kung fu movies. However, rather than settling for the role of student, she has become a Tai Chi master herself, teaching the relaxing fitness practice to both Chinese and foreigners.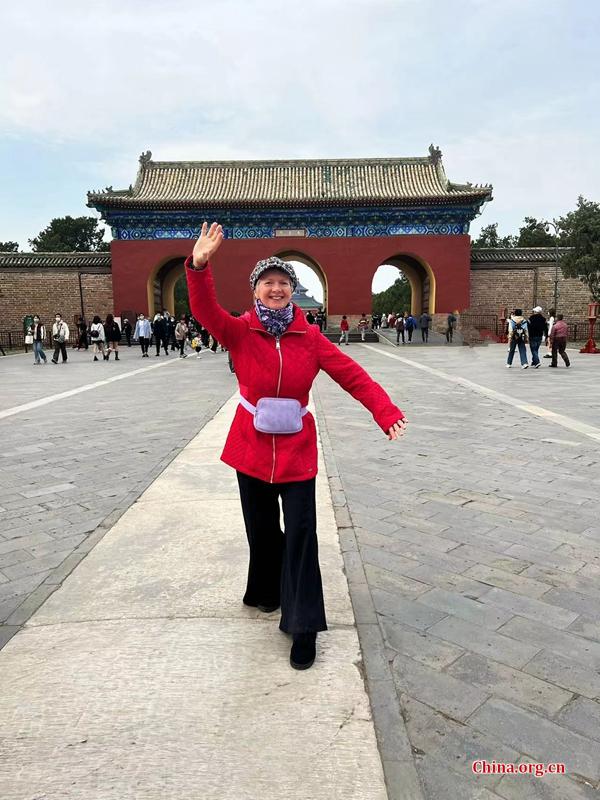 Rosalind Oliver, director of the British Cultural Center of the University of Shanghai for Science and Technology, poses for a photo at the Temple of Heaven in Beijing, April 26, 2023. [Photo by Cui Can/China.org.cn]

Oliver's journey with Tai Chi began in her early 20s, when she was suffering from a back injury and looking for a new exercise regime. The 58-year-old British woman recalls the injury that left her confined to bed for six months.
"As an active youngster at that time, I couldn't bear resting in bed," she explained. "My muscles became wasted and stiff through lack of use, and I was often in a lot of pain. So, I felt that some physical exercise would help."
She then discovered Tai Chi when she spotted by chance a poster advertising classes and decided to try the "mysterious and exotic" eastern sport. Oliver was immediately struck by the gentle and beautiful movements of Tai Chi, and to her delight, found that her occasional pains disappeared after years of practice.
"Tai Chi is a mind-body exercise rooted in multiple Chinese traditions. It not only helps me to improve physical strength, but also provides me with many mental benefits, such as improved mood and focus, and less anxiety and depression," she added.
Oliver later met her late husband, who was also her Tai Chi instructor. In the early 1990s, the couple opened their own martial arts school in the U.K., where they conducted Tai Chi workshops across the country.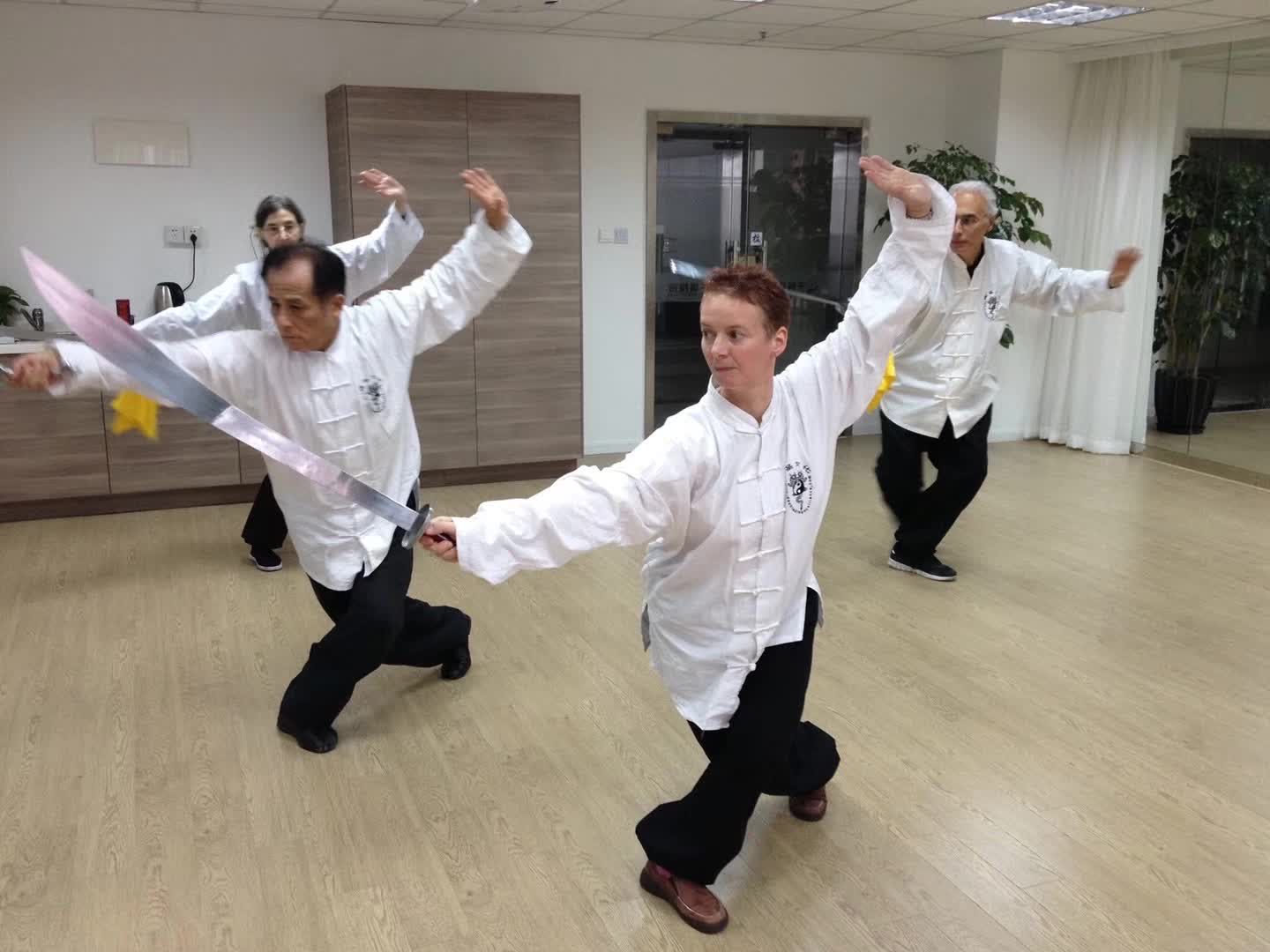 Rosalind Oliver, director of the British Cultural Center at the University of Shanghai for Science and Technology, practices Tai Chi with her students. [Photo provided to China.org.cn]

To further understand Tai Chi and the Chinese philosophy behind it, they decided to embark on a journey to China. However, three years after moving to Shanghai in 2000, her husband passed away, leaving her alone to pursue their shared passion for Tai Chi.
She recalled that it was a hard time for her. However, she was grateful to have formed strong bonds with many Chinese friends in Shanghai who supported her through the grieving process. "They didn't treat me like a foreigner, but rather like a friend who shared their passion for Chinese martial arts. They were very welcoming and inclusive," Oliver said.
In 2005, Oliver established the Double Dragon Alliance Cultural Center, which acts as a bridge for foreign people seeking to gain a better understanding of Chinese culture. The center supports kung fu masters in teaching martial arts and organizes seminars and events for people to experience various aspects of Chinese culture, including acupuncture, traditional Chinese medicine, calligraphy, painting, and Peking Opera.
Apart from her Tai Chi classes, Oliver now teaches English at Shanghai University and serves as the director of the British Cultural Center at the University of Shanghai for Science and Technology.
Reflecting on her work, Oliver said, "For quite many years, my work is actually to be like a cultural bridge. If you don't have someone in the middle who is appreciative of all the cultures and have the desire to connect people, then it's hard for them to get to know each other. I hope I can be the bridge to bring people close together."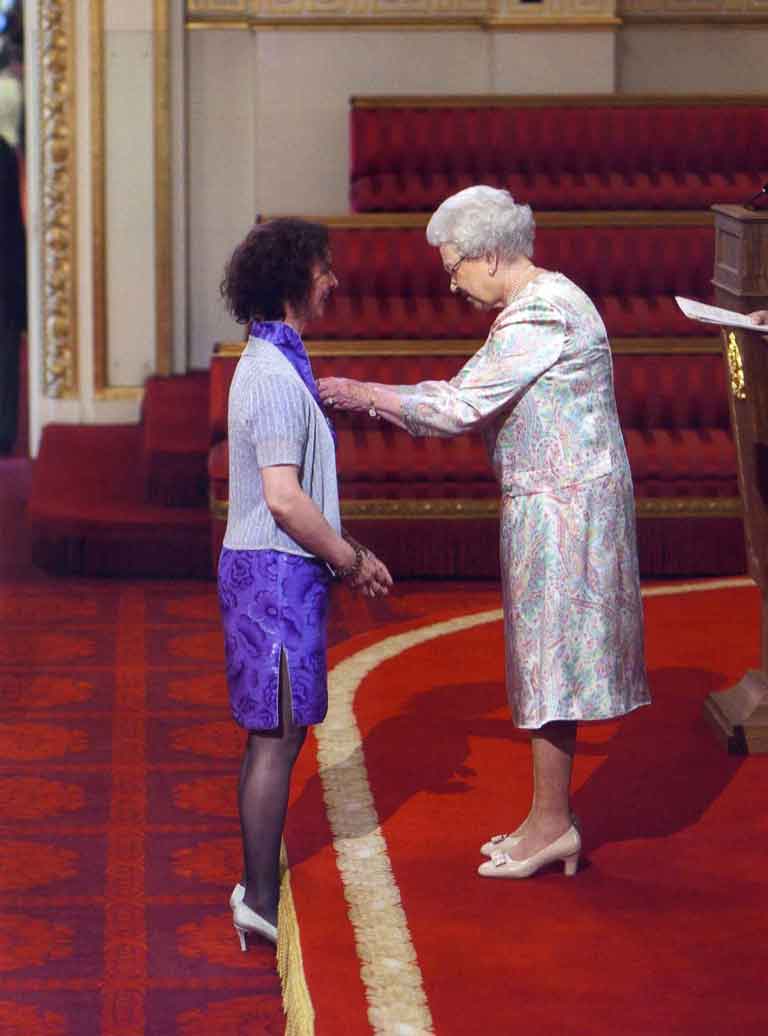 Rosalind Oliver receives her Member of the Order of the British Empire from Queen Elizabeth at Buckingham Palace on June 28, 2011. [Photo provided to China.org.cn]

In 2010, Oliver was awarded the Member of the Order of the British Empire for her contributions to Sino-British relations and cross-cultural work. She still vividly remembers the ceremony at Buckingham Palace the next year.
"It was a wonderful experience. The ceremony lasted for about two hours, and Her Majesty the Queen knew a little about each of us and had a quick chat with everyone. We talked about cultural exchange, and I explained my work in Shanghai to her, and she said, 'It's very important work, you must keep it up.'"
Oliver expressed her deep love for cultural exchange and hope to expand her work in this area. "We need to foster mutual understanding among cultures to promote peaceful relations and friendship across the globe."