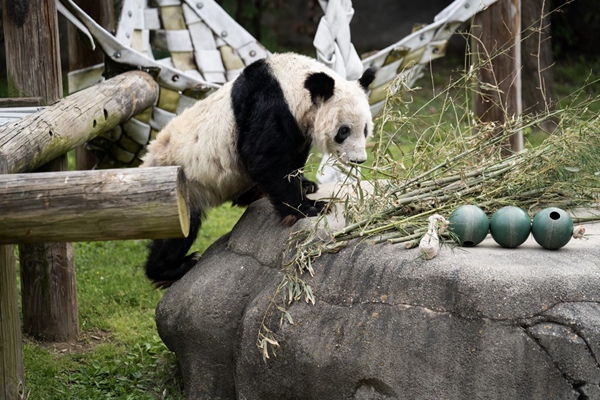 This photo taken on April 25, 2023 shows giant panda Ya Ya at the Memphis Zoo in Memphis, the United States. [Photo/Xinhua]
Giant panda Ya Ya, who arrived in Shanghai on Thursday, will "be sorely missed," the Memphis Zoo said.
Ya Ya, a female, began her journey back to China on Wednesday, accompanied by the Memphis Zoo's senior veterinarian and chief zoological officer.
"Our veterinarian will manage any medical concerns or needs, while our Chief Zoological Officer will manage all husbandry needs while en route," the zoo in Memphis, U.S. state of Tennessee, wrote in a Facebook post on Wednesday.
Ya Ya was born at the Beijing Zoo in August 2000, and came to the Memphis Zoo in April 2003 with male giant panda Le Le under a partnership between the Memphis Zoo and the Chinese Association of Zoological Gardens (CAZG).
"After 20 years, Ya Ya has become like family, and she will be sorely missed by the Memphis Zoo staff and the local community," the Memphis Zoo said. "We wish her the best of luck in her new home."
Lauren Caskey, the associate curator of Memphis Zoo, told Xinhua earlier this week that Ya Ya is "a wonderful, funny bear."
"Ya Ya is so outgoing," said Caskey, who took care of the giant panda for four years. "She is always wanting to come up and interact with us."
"I just want her to know that we wish her well and that we hope she enjoys all the love and attention she's gonna get when she goes back to China," the associate curator noted.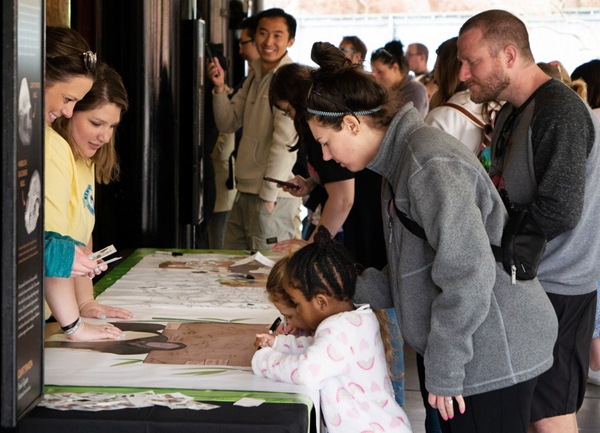 Visitors attend a farewell event for female giant panda Ya Ya at the Memphis Zoo in Memphis, the United States, April 8, 2023. [Photo/Xinhua]
The Memphis Zoo's giant panda loan agreement with the CAZG ended this spring. Sadly, 25-year-old Le Le died of heart disease in February. His remains were repatriated on the same flight which Ya Ya was boarding.
Ya Ya, 23, is staying at a special quarantine site set up by the Shanghai Zoo, where she will stay for a month.
Chinese Foreign Ministry spokesperson Mao Ning said on Wednesday that the giant pandas received good care from the zoo and great affection from the American people during their stay at the Memphis Zoo.
The collaborative research on the conservation of giant pandas, according to Mao, has made positive contributions to the conservation and public education concerning the species as well as cultural and people-to-people exchanges.
"China stands ready to continue to work with cooperation partners including the U.S. to play our part in protecting endangered species," the spokesperson added.