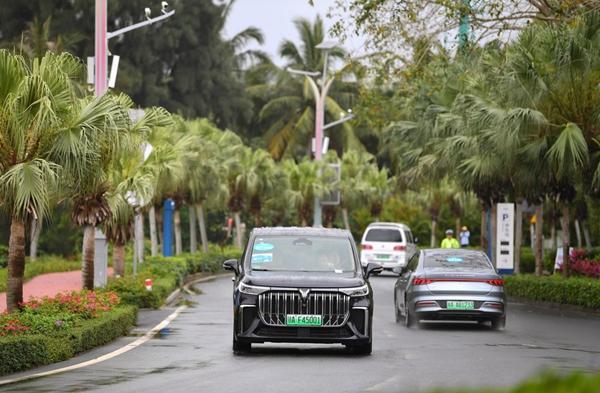 New energy vehicles run in the zero-carbon demonstration zone in Boao, south China's Hainan Province, March 28, 2023. [Photo/Xinhua]
The global transport sector is set to fall short of targets for reducing greenhouse gas emissions and mitigating climate change, the International Transport Forum (ITF) warned on Wednesday.
At the opening of its annual summit in Leipzig, Germany, ITF said that the transport sector would "miss by a wide margin the reduction needed to keep climate change in check."
Decarbonization measures currently underway will only reduce global transport-related CO2 emissions by 3 percent by 2050, ITF said in its annual report.
In order to meet the Paris Agreement's net-zero target by 2050, transport-related CO2 emissions would need to fall by at least 3 percent annually until 2030, the International Energy Agency (IEA) has warned.
"It will be absolutely essential to quickly scale up cost-competitive technologies and fuels to move people and goods with far, far fewer emissions," said ITF Secretary-General Young Tae Kim.
Although the transport sector is not on track to reach the net-zero target, global transport could still reduce its CO2 emissions by around 80 percent compared to 2019 levels over the next 25 years if decarbonization is accelerated, ITF said.
Achieving this ambitious goal would require a combination of complementary policies to avoid unnecessary transport activity, a shift to CO2-free transport modes, and the improvement of transport efficiency, Kim stressed. "We can do all this if we take more decisive action now."
Although accelerating the transition to low or zero-carbon transportation would require significant investment, it would still come in at 5 percent less than the cost of current policies, according to ITF projections.
Due to the consequences of climate change, Germany alone suffered at least 145 billion euros (156.6 billion U.S. dollars) of damage between 2000 and 2021, according to a recent study commissioned by the country's government. By 2050, this figure could be as much as 900 billion euros higher.
The 2023 summit of the ITF, which is part of the Organization for Economic Cooperation and Development (OECD), has brought together transport ministers, CEOs and experts in the sector for three days of high-level talks on the theme of "Transport Enabling Sustainable Economies."
The summit will run until May 26 under the presidency of the United Kingdom, with more than 1,400 participants from 80 countries taking part. (1 euro = 1.08 U.S. dollar)