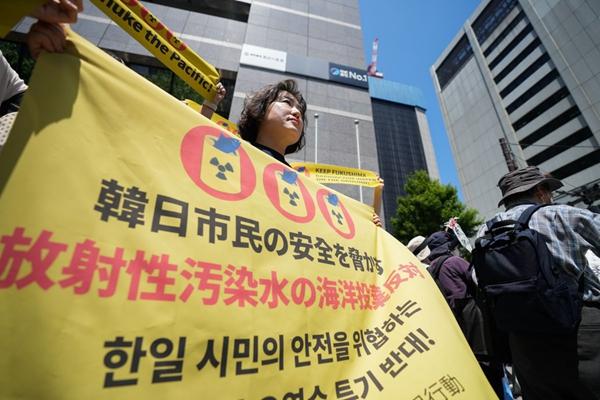 South Koreans rally in front of the headquarters of Tokyo Electric Power Company (TEPCO) to protest against the Japanese government's plan to discharge nuclear-contaminated water into the sea in Tokyo, Japan, May 16, 2023.[Photo/Xinhua]
Over 100,000 people in South Korea have, as of Monday, signed a petition against Japan's planned discharge of treated radioactive wastewater from the Fukushima Daiichi nuclear power plant into the Pacific Ocean.
The signature campaign was organized by the country's main opposition party, the Democratic Party of South Korea, on Friday.
In just three days, the campaign gathered huge momentum, leading to the petition garnering 100,000 signatures as of Monday.
The campaign came after a team of South Korean experts concluded a two-day trip to Fukushima to investigate health safety concerns surrounding the wastewater discharge agenda.
The Democratic Party of South Korea opposed the team's visit, saying it could end up giving its blessing to the planned release of contaminated water.
A recent survey also shows that the general public in South Korea does not favor Japan's discharge of Fukushima's nuclear wastewater.
According to the survey conducted by polling organization Research View from May 19 to 22, about 85.4 percent of respondents are against the move.
A total of 79 percent of respondents do not trust the Japanese government's claim that the move would cause no safety issues.
On March 11, 2011, a magnitude-9.0 earthquake struck off the coast of Fukushima Prefecture in Japan, triggering a tsunami that engulfed the Fukushima Daiichi nuclear power plant, causing core meltdowns and leading to the worst nuclear crisis since Chernobyl.
With tainted water rapidly filling storage tanks at the crippled power plant to capacity, the Japanese government said in January this year that over one million tonnes of tritium-laced wastewater will be released into the Pacific over a 30-year period from 2023, despite strong international outcry.