The 2023 BRICS Women's Leadership Forum is held in Beijing on June 5, 2023. [Photo by Xu Xiaoxuan/China.org.cn]
The 2023 BRICS Women's Leadership Forum took place on Monday in Beijing, bringing together 300 representatives from government, business, academia and international relations. The event focused on empowering women in BRICS countries while promoting innovation and business cooperation.
Ren Hongbin, chairman of the China Council for the Promotion of International Trade (CCPIT), highlighted the significant role played by the BRICS Women's Business Alliance (WBA), which was established in 2020. He emphasized that the WBA has served as a new platform for promoting economic and trade exchanges and cooperation among BRICS countries, empowering women to unlock their business potential. He encouraged more women to lead with openness, innovation and shared development to continuously contribute to BRICS collaboration.
Shen Yueyue, vice chairperson of the National Committee of the Chinese People's Political Consultative Conference and president of the All-China Women's Federation, pointed out that promoting a Chinese path to modernization has opened up broader prospects for the all-round development of women in BRICS countries, injecting new impetus into their cooperation.
South African Ambassador to China Siyabonga C. Cwele proposed providing women, especially those with lower incomes, with greater access to information, technology and other necessary resources to boost their employment opportunities. The ambassador also stressed the importance of relevant education and training opportunities, emphasizing that promoting female leadership is not solely a women's matter and calling on men to play their due role.
Zhao Haiying, chairperson of the China Chapter of BRICS WBA and executive vice president of China Investment Corporation, highlighted the pivotal role of women in family harmony and social progress. She added that creating a better environment for women's economic participation contributes to global prosperity and stability. She expressed hope that governments, enterprises and the international community would fully focus on and safeguard women's right to development.
Lebogang Zulu, the rotating chairperson of BRICS WBA and Group CEO of AV South Africa, noted that South Africa, holding the rotating presidency of BRICS WBA this year, will continue to promote economic cooperation, accelerate resource integration under the BRICS cooperation mechanism, and facilitate mutual assistance among women to advance gender equality and equity.
Anna Nesterova, chairperson of the Russia Chapter of BRICS WBA and chairperson of the Board of Directors of Global Rus Trade, noted that the forum witnessed the first face-to-face engagement of BRICS WBA chairpersons, laying a solid foundation for further advancing the BRICS partnership. She called for collective efforts to encourage more female entrepreneurs to participate in international economic and trade collaborations.
During the forum, the BRICS Women's Development Report 2023 was released. The report presents the current development situation of women in BRICS countries in areas such as health, education, the economy, decision-making, management, and technology. It analyzes the challenges faced by women in entrepreneurship and proposes corresponding solutions.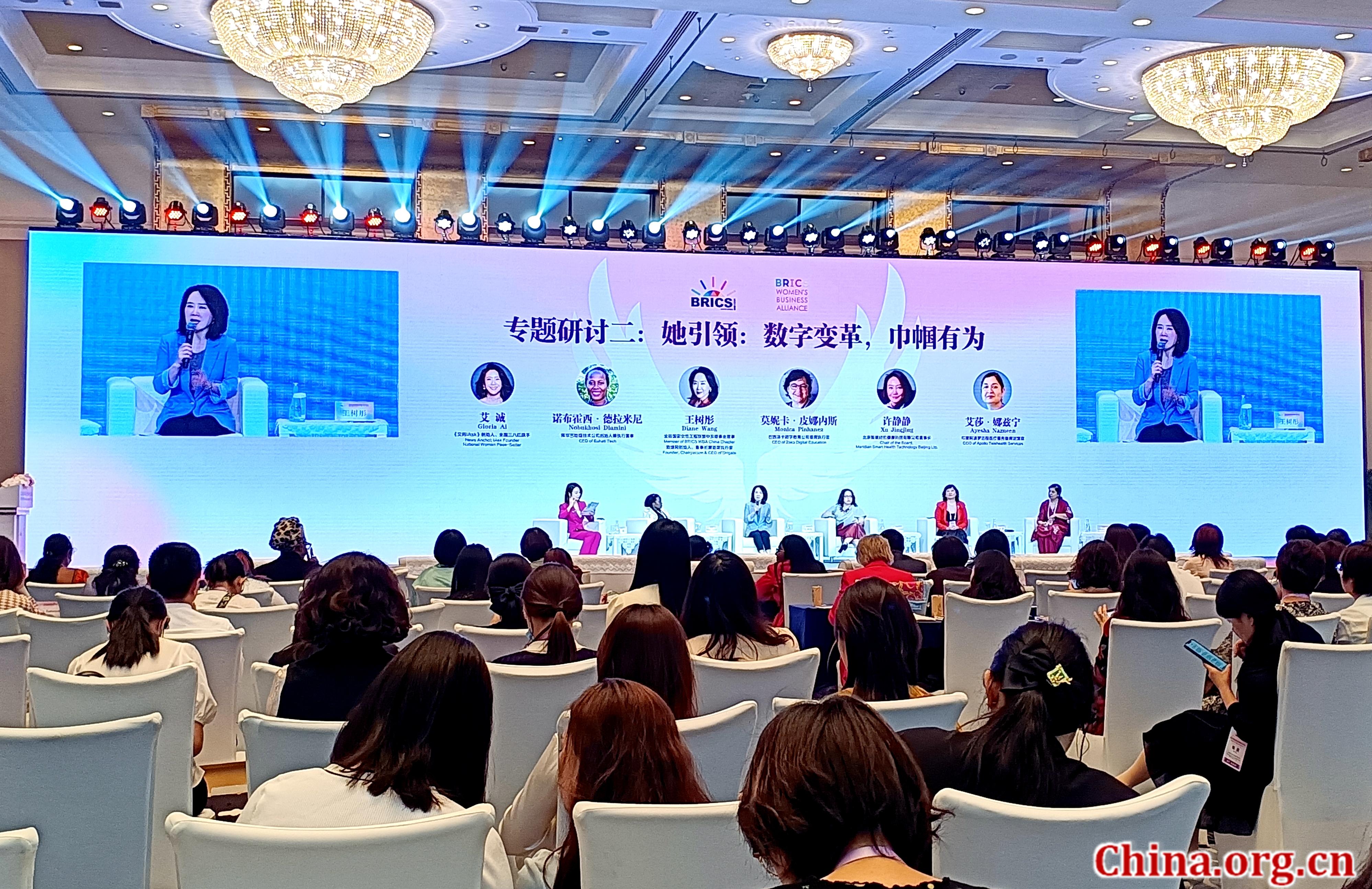 Two panel discussions are held focusing on women's corporate leadership and the digital gender divide, on June 5, 2023. [Photo by Xu Xiaoxuan/China.org.cn]
The forum also featured two panel discussions focusing on women's corporate leadership and the digital gender divide. Guests emphasized the importance of women's leadership role in improving corporate governance and promoting digital inclusion.
The forum, a flagship event under the BRICS WBA, was co-hosted by CCPIT and the China Chamber of International Commerce.