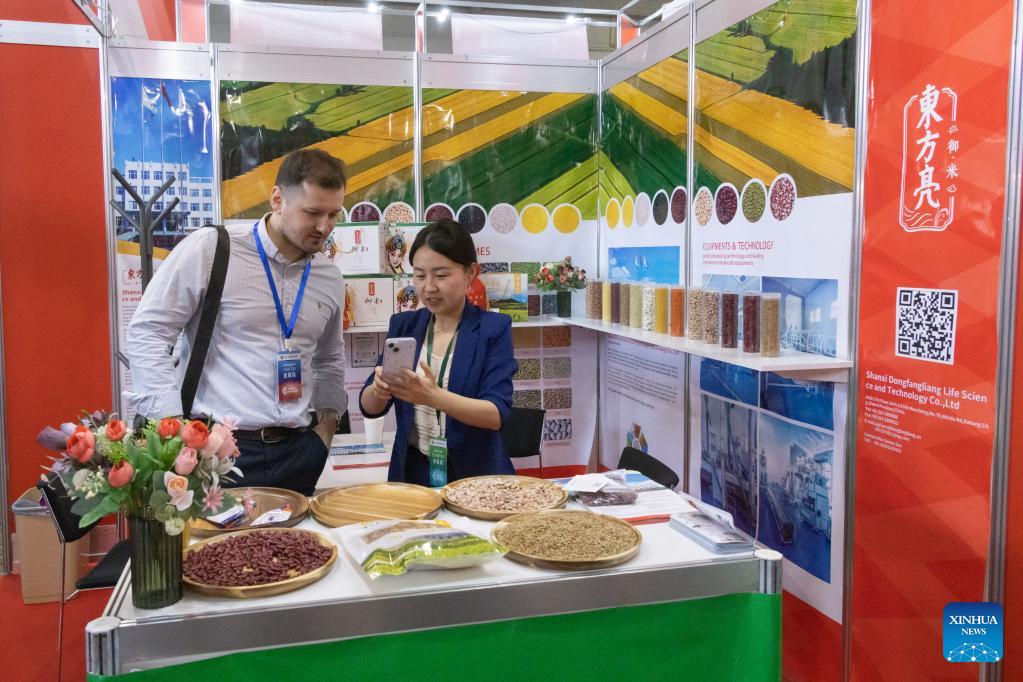 A visitor talks with an exhibitor at the 2023 China Brand Fair (Central and Eastern Europe) in Budapest, Hungary, on June 8, 2023. [Photo/Xinhua]
After a three-year hiatus, the 2023 China Brand Fair (Central and Eastern Europe) has once more opened in Budapest, showcasing the expanding economic and trade ties between China and Hungary.
The recurring three-day event, the sixth edition of this fair, has evolved into a significant platform for fostering business relations and facilitating commercial and economic cooperation thanks to the presence of over 230 Chinese exhibitors.
Wu Zhengping, director general of the Trade Development Bureau of the Ministry of Commerce of China, acknowledged the steady growth in bilateral economic and trade relations.
"The fair sends a signal throughout Europe, providing a comprehensive platform for exhibitions, trade negotiations, investment cooperation and cultural exchange," he said.
He highlighted Hungary's strategic geographical position among the countries participating in China's Belt and Road Initiative (BRI), and urged enterprises to make use of the available international supply routes and logistics services, such as the China-Europe freight trains.
Wu also encouraged Hungarian companies to explore investment opportunities in China, fostering two-way investment and a balanced trade relationship. He expressed his hope that entrepreneurs and friends could "foster friendship, engage in cooperative discussions, and jointly plan for the future" via this platform.
Liu Bo, minister-counsellor of the Chinese embassy in Hungary, said that "Hungary has become China's largest investment destination in Central and Eastern Europe."
He emphasized the significance of the BRI in fostering developments, noting that the current fair, the first after the COVID-19 pandemic, will further enhance bilateral economic and trade cooperation.
Szabolcs Szolnoki, deputy state secretary for technology of the Ministry of Economic Development of Hungary, expressed his gratitude for the event, noting that China is Hungary's top trading partner outside the European Union.
He assured attendees that Chinese goods not only offer an excellent price-per-performance ratio but also boast the highest quality.
Erno Peto, president of the Chinese Hungarian Chamber of Economy, praised the event, highlighting its purpose of connecting companies and helping them to establish mutually beneficial collaborations. "The China Brand Fair has become the biggest and most important exhibition of Chinese brands in Central and Eastern Europe."
Local entrepreneurs also view the fair as a useful platform for harmonious exchange and mutually beneficial trade between China and the Central and Eastern European countries.
"We are looking for new opportunities, we want to find new markets, and that's why we have come to this exhibition," Kristof Horvath, a 26-year-old entrepreneur in energy sector told Xinhua, following the opening ceremony.
"I am impressed by the variety of products on show, and on such a big area," he said.
"It is really worth coming here because we can touch and try the products with our hands, it is much better than just scrolling pics on the web," Mate Kovacs, his 27-year-old friend, interested in the catering business, said.