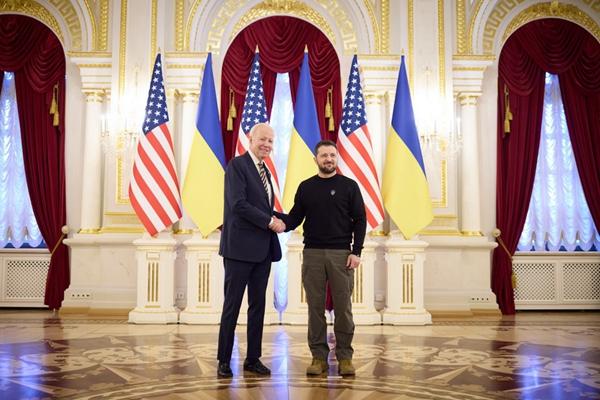 Ukrainian President Volodymyr Zelensky (R) meets with U.S. President Joe Biden in Kiev, Ukraine, Feb. 20, 2023. [Photo/Ukrainian Presidential Office handout via Xinhua]
The United States will provide an additional package of military equipment to Ukraine worth 200 million U.S. dollars, days after the White House requested further funding from Congress to bolster Kiev in its conflict with Russia.
U.S. Secretary of State Antony Blinken said in a statement that items in the latest package include air defense munitions, artillery rounds, anti-armor capabilities, and additional mine-clearing equipment.
In a press release containing a detailed list of equipment to be sent to Ukraine, the Pentagon said this is the 44th tranche of equipment for Ukraine that's going to be extracted from Department of Defense inventories since August 2021.
The latest assistance, the release said, will utilize assistance previously authorized by Biden under Presidential Drawdown Authority for Ukraine that remained after a revaluation process concluded in June to determine what went wrong in an inconsistency in calculating the value of military equipment sent to Ukraine.
The Pentagon admitted that an accounting error resulted in an overestimation of 6.2 billion dollars in the value of weapons packages provided to Ukraine during a two-year period ending Sept. 30 this year.
Adding Monday's announced assistance to the sum, the Biden administration has committed 43.7 billion dollars in security assistance for Ukraine since the beginning of the administration, including 43 billion dollars since Russia launched its special military operation against Ukraine on Feb. 24, 2022, the Pentagon said in a separate release.
In another development, the Biden administration on Thursday asked Congress to approve 24 billion dollars for Ukraine. The request was contained in a spending package totaling about 40 billion dollars that also included 4 billion dollars for border security and 12 billion dollars related to disaster relief.
Biden has vowed to assist Ukraine "as long as it takes," but his administration's relentless spending on Ukraine has faced opposition in Congress, especially from far-right Republicans who argued against aiding Ukraine indefinitely.
Pressure is mounting on the Biden administration to ensure transparency in the taxpayer-supported Ukraine aid money, with Republicans -- and even some progressive Democrats -- urging stringent audit.
In a sign of sharp partisan divide on the issue, though, Senate Democrats last month blocked an amendment to the fiscal year 2024 National Defense Authorization Act that would create a new office conducting oversight into U.S. military assistance for Ukraine.