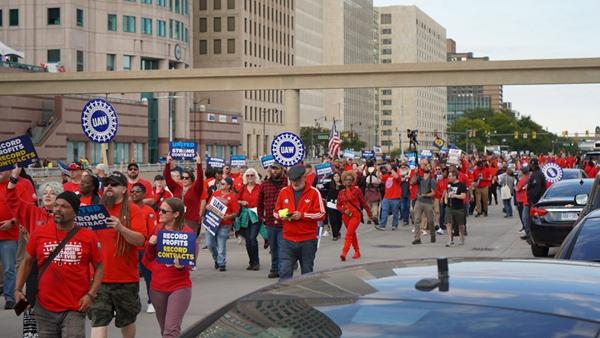 Auto workers take part in a strike rally in downtown Detroit, the United States, Sept. 15, 2023. [Photo/Xinhua]
United Auto Workers (UAW) union and the Big 3 auto companies were set to resume talks on Sunday, being seemingly no closer to reaching deals than they were when autoworkers went on strike on Friday.
The union has rejected an offer from U.S. automaker Stellantis to increase workers' wages by 21 percent, Shawn Fain, head of UAW said on Sunday.
"I don't really want to say we're closer," he said. "It's a shame that the companies didn't take our advice and get down to business from the beginning."
Fain repeatedly cited the 40-percent pay raises for the Big 3 CEOs over the past four years, which are in stark contrast with the 6-percent raises autoworkers have received since their last contract in 2019.
CEO pay has ballooned for decades, while wages for ordinary workers have lagged. "It's definitely a no-go. We've made that very clear to the companies," Fain said in an interview.
As the days of the strike increase, so will its impact. In a statement Saturday, Ford says 600 workers were laid off from their Michigan assembly plant because of a halt in production when their paint department was called to strike.
Facing the laid-off, Fain responded that these workers won't go without income and said this is only a tactic being used for the union to settle for less. He criticized the company's behavior, saying it sees the workers as bargaining chips.
The union had talks with Ford on Saturday. It was going back to the bargaining table on Sunday with General Motors and plans to talk with Stellantis on Monday, a spokesman said.
Shares of Australia's BlueScope Steel Ltd slipped to an over three-month low as the ongoing UAW strike in the United States weighs on the Australian steel-maker's North American business.
BlueScope Steel shares fell as much as 3.8 percent, their lowest since June 2, and are on track to log a sixth straight session of losses.
Although the strike is limited so far, an extended one could complicate the Federal Reserve's efforts to fight inflation by pushing up the cost of new cars as fewer are produced.
The work stoppage could also affect other businesses in the automakers' supply chain.
U.S. President Joe Biden said he supports the union. But his climate agenda could conflict with the walkout and the labor demands as it may well require less labor.