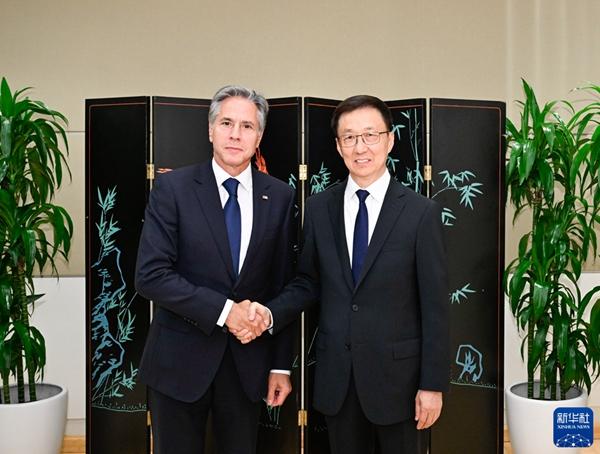 Chinese Vice President Han Zheng (R) meets with U.S. Secretary of State Antony Blinken at the sidelines of the 78th session of the United Nations General Assembly in New York, U.S., September 18, 2023. [Photo/Xinhua]
Chinese Vice President Han Zheng said on Monday he hoped China and the U.S. will meet each other halfway and implement the important consensus reached by the two heads of state in Bali, Indonesia.
In his meeting with U.S. Secretary of State Antony Blinken, Han said it is hoped that the two sides take practical actions, create favorable conditions and do more to enhance understanding, mutual trust and mutually beneficial cooperation to push China-U.S. relations back to a healthy and stable track and benefit both countries as well as the world.
China's development is an opportunity rather than a challenge, a gain rather than a risk to the U.S., and the two sides have every reason to achieve mutual success and common prosperity, added Han.
China's policy towards the U.S. remains consistent and stable. It is fundamentally guided by the principles of mutual respect, peaceful coexistence and win-win cooperation put forward by President Xi Jinping, Han said.
For his part, Blinken expressed hope that China will achieve success and continue to promote global economic growth, adding that he looked forward to strengthening communication, managing differences and promoting cooperation with China to develop U.S.-China relations.