At Halim Station here in the Indonesian capital, the first official train of the Jakarta-Bandung High-speed Railway (HSR) glided away from the platform and picked up speed amid applause from its passengers.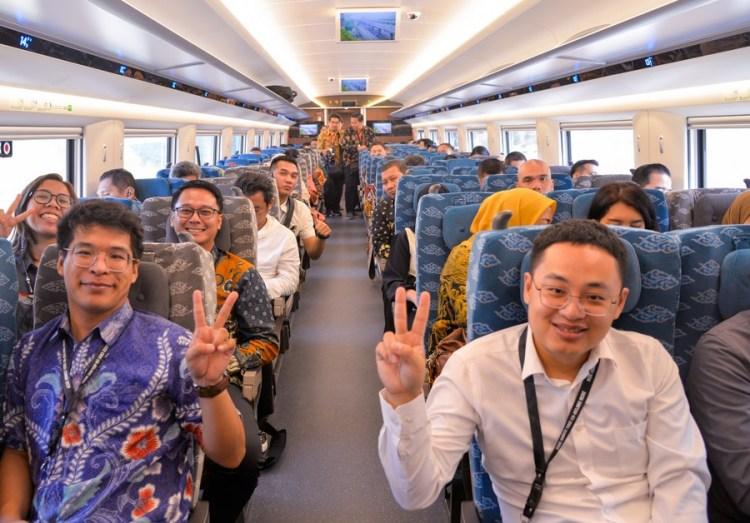 Passengers pose for photos aboard a high-speed electric multiple unit (EMU) train running on the Jakarta-Bandung High-Speed Railway (HSR) in Indonesia, Oct. 2, 2023. (Xinhua/Xu Qin)
After 40 minutes, the crimson and silver adorned train steadily came to rest at Tegalluar Station in Bandung, the capital of West Java Province, marking the successful launch of the first high-speed railway in Indonesia and Southeast Asia.
At a ceremony on Monday, Indonesian President Joko Widodo declared the start of the HSR's official operation, saying it marked the modernization of Indonesia's transportation mode.
Widodo revealed the name of the HSR, "Whoosh," inspired by the train's sound and meaning fast, efficient and reliable in Indonesian.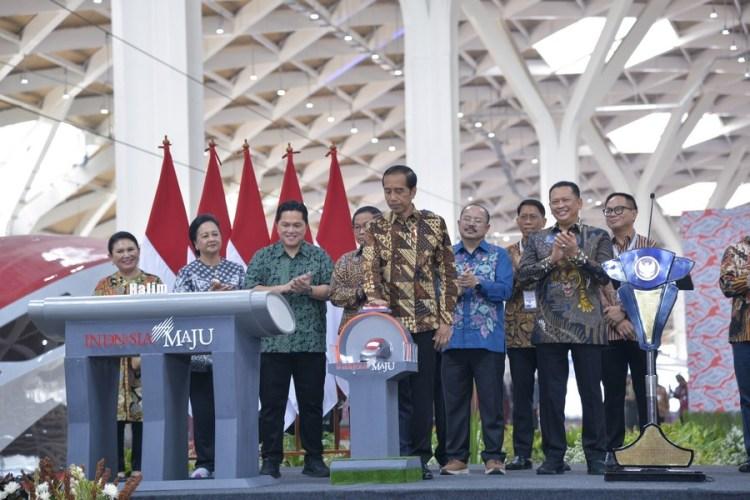 Indonesian President Joko Widodo (front) presses a button signifying the official operation of the Jakarta-Bandung High-Speed Railway (HSR) during a ceremony at Halim Station in Jakarta, Indonesia, Oct. 2, 2023. (Xinhua/Xu Qin)
With a speed of 350 km per hour, the HSR is the first overseas high-speed railway project that fully uses Chinese railway systems, technology and industrial components.
Technology from China
The 142.3 km high-speed line, which cuts the journey between Indonesia's capital city, Jakarta, and the 4th largest city, Bandung, from over three hours to 40 minutes, is a flagship project that synergizes the China-proposed Belt and Road Initiative and Indonesia's vision of the Global Maritime Fulcrum.
"It's like a dream come true," said Hermanto Dwiatmoko, chairman of the Indonesian Railway Society and former director general for railways at the Transportation Ministry. In 2008, he was invited to take the Beijing-Tianjin Intercity Railway, the first HSR with a design speed of 350 km per hour in China.
"When I was taking the HSR in China, the maximum speed of Indonesia's train was 120 km per hour at that time, so the experience was quite a surprise to me," he said.
Before introducing the HSR system, Indonesia predominantly relied on narrow-gauge and standard-gauge railways, with only a limited portion of the railway network electrified. Consequently, there was a pressing need for technological advancements and equipment upgrades to enhance the efficiency and capacity of the rail infrastructure.
The Jakarta-Bandung HSR uses the currently most advanced autonomous CTCS-3 train control system as the central nervous system, which took China more than 15 years to develop with independent intellectual property rights.
Guo Lei, head of the design department of the High-Speed Railway Contractor Consortium, said the line has made adaptations and technological innovations per local conditions, directly driving the modernization of the Indonesian railway system and the upgrade of related equipment.
Dwiyana Slamat Riyadi, president director of Kereta Cepat Indonesia China, a joint venture consortium between Chinese and Indonesian state-owned firms that runs the line, said the long-tested Chinese standards guarantee the safe operation of the Jakarta-Bandung HSR.
"China provides the widest possible technology transfer, which puts Indonesia at the forefront of high-speed train technology compared to other ASEAN countries, and Indonesia will benefit from it in the future for a long time," said Riyadi.
Benefits for locals
Galang Swandaru has witnessed the process of building Tegalluar Station.
After taking one-on-one training lessons from his Chinese teacher, the 27-year-old civil engineering graduate became a quality-control engineer at the high-speed railway project department of China Tiesiju Civil Engineering Group.
"Swandaru is not talkative but diligent and willing to learn," said his teacher, Zhao Wei, also the deputy chief engineer of Tegalluar Station. "He managed to master the survey lofting skills quickly and can check whether construction meets design requirements. He is now capable of taking some technical work independently."
"There are many young Indonesian technicians like me along the railway who have learned professional skills from Chinese teachers as well as from working on-site," said Swandaru.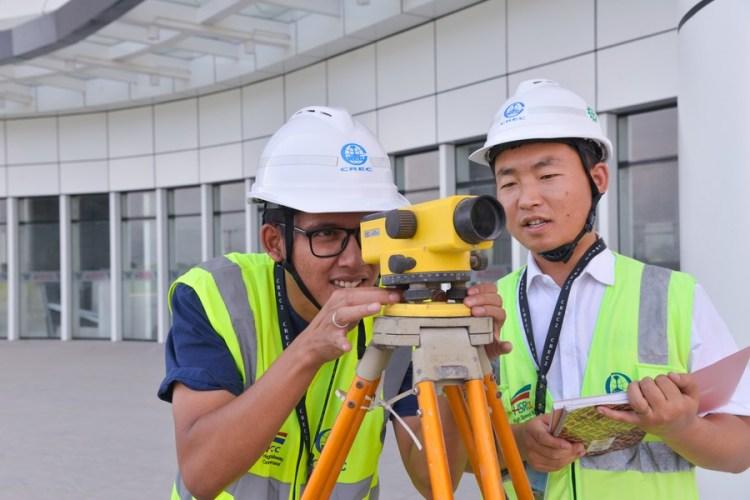 Galang Swandaru (L), a quality-control engineer at the Jakarta-Bandung High-speed Railway (HSR) project department of China Tiesiju Civil Engineering Group, learns leveling from his Chinese teacher Zhao Wei outside Tegalluar Station in Bandung, Indonesia, July 21, 2023. (Xinhua/Xu Qin)
Apart from cultivating young talents, project departments in charge of civil engineering work prioritize nearby villagers when hiring workers. They also organize specific training like welding, forklifting and hoisting operations for them.
Khairul Ikmal is a villager in Malangnengah, Purwakarta Regency, near the railway project department of Sinohydro Bureau 7. Ikmal used to work as an assembly line worker in a shoe factory far away from home. He was recruited in 2019 and learned to become a welder after five months of training.
Many other villagers have also secured employment in the project department like Ikmal, resulting in a notable income boost. Ikmal fulfilled his long-held dream of owning a motorcycle thanks to his new job.
"Since the railway project is completed now, I plan to open a welding studio and use the technology I have learned over the past four years to make products such as guardrails and window guards," he said.
According to statistics provided by Kereta Cepat Indonesia China, 45,000 Indonesian employees were trained on-site through institutions and by their Chinese teachers during the high-speed railway's construction. And the project has created about 51,000 jobs in Indonesia.
New opportunities
"The opening of the Jakarta-Bandung high-speed railway is undoubtedly good news for me," said Hazrina Marlina, a 49-year-old who runs a rental department business near a college in Bandung while living in Jakarta with her family.
Marlina used to take the train from home to work, but the railway was built over 100 years ago with a speed of about 50 km per hour, thus costing her more than three hours. "The past travel experiences weren't really ideal for me or other business people," she said.
"Taking the high-speed train will save me at least two hours on the road. I can go to Bandung whenever necessary, and going there and back within a day is possible now," said Marlina.
Arief Rahmanda, a transportation consulting company CEO, shares Marlina's sentiments.
The 30-year-old travels from his company in east Java to Bandung almost weekly to meet clients, costing him at least two and a half hours by car.
"The HSR has a reputation for being punctual and reliable, so I wouldn't be worried about getting stuck on the highway anymore," Rahmanda said.
Crew members of a high-speed electric multiple unit (EMU) train for the Jakarta-Bandung High-Speed Railway greet passengers and guests at Halim Station in Jakarta, Indonesia, Oct. 2, 2023. (Xinhua/Xu Qin)
About 10 minutes ride away from Halim Station, the second stop of the line is Karawang, located in a famous industrial area with several automobile factories with Chinese and Japanese investments.
Wuling Motors Indonesia, a subsidiary of the major Chinese automobile manufacturer SAIC-GM-Wuling, is one of them.
"Our factory is less than half an hour's drive from the Karawang Station. The HSR offers convenience for potential business clients and partners to come to visit us," said Arif Pramadana, vice president of SAIC-GM-Wuling Motor Indonesia.
The HSR also provides residents along the line with a greener way of travel, Pramadana said.
"The multi-form cooperation between China and Indonesia in the field of transportation would promote sustainable development with far-reaching effects," he added.
Java Island, through which the HSR passes, is the most densely populated island in this archipelagic nation. With over 151 million residents, it constitutes over half of Indonesia's total population. Given this significant population concentration, there is a widespread expectation for more efficient transportation to address the increasing demand.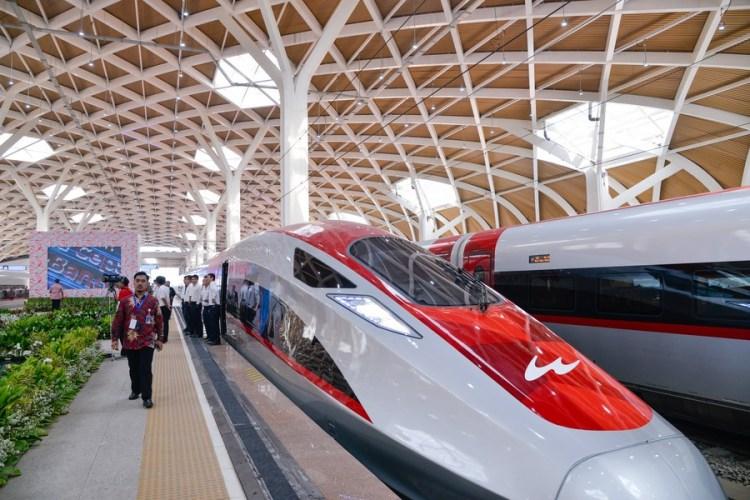 High-speed electric multiple unit (EMU) trains for the Jakarta-Bandung High-Speed Railway are seen at Halim Station in Jakarta, Indonesia, Oct. 2, 2023. (Xinhua/Xu Qin)
According to Ridwan Kamil, the former governor of West Java province, the Jakarta-Bandung HSR improves transportation and holds immense potential for creating new opportunities.
He believes the HSR will catalyze transit-oriented development, leading to an emerging new economy and employment opportunities.
"We are designing a master plan for a new city with more buildings around the high-speed railway stations," said Kamil. "With new infrastructure being built and more investment coming, an increase of job opportunities will be given to the younger generations of West Java people."