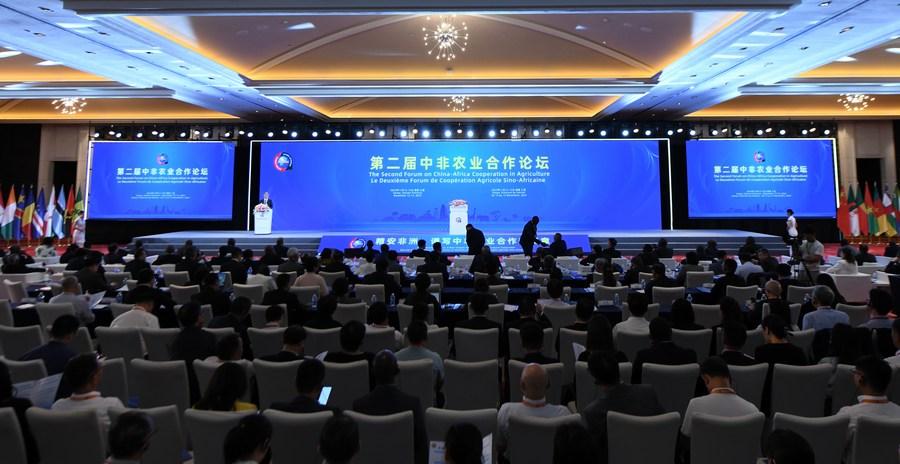 This photo taken on Nov. 14, 2023 shows the opening ceremony of the 2nd Forum on China-Africa Cooperation in Agriculture in Sanya, south China's Hainan Province. [Photo/Xinhua]
The agricultural cooperation between China and Africa has yielded fruitful results with a prosperous future for a comprehensive win-win partnership, officials have said at the second Forum on China-Africa Cooperation in Agriculture.

Themed "Food Security for Africa: a New Chapter for China-Africa Agricultural Cooperation," the forum was held in Sanya, south China's Hainan Province, from Monday to Wednesday.
In a keynote speech, Tang Renjian, China's minister of agriculture and rural affairs, said that over the past decade, China has set up 24 agricultural technology demonstration centers in Africa, and popularized more than 300 advanced agricultural technologies, which have increased local crops yields by an average of 30 to 60 percent, benefiting more than 1 million farmers in African countries.
By the end of 2021, the agricultural investment by Chinese enterprises in Africa has reached 12.8 billion RMB (1.77 billion U.S. dollars), growing at an average annual rate of 11.4 percent and creating more than 30,000 jobs, Tang added.
Noting that the cooperation in agriculture is a win-win opportunity for both China and Africa, Josefa Leonel Correia Sacko, the African Union (AU) commissioner for agriculture, rural development, blue economy and sustainable environment, said: "With China moving and leading the way in agricultural modernization through significant investment in scientific research and technology, it presents a huge opportunity for the AU to tap into and propel Africa's agricultural production, agro-industry and agri-food value chain transformation."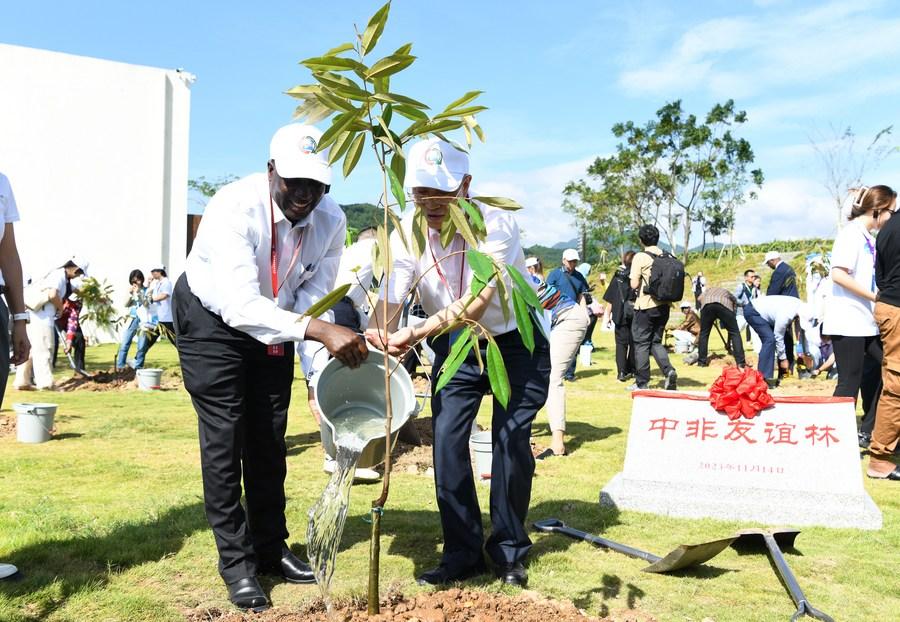 Participants of the 2nd Forum on China-Africa Cooperation in Agriculture plant trees while visiting local agricultural bases in Sanya, south China's Hainan Province, Nov. 14, 2023. [Photo/Xinhua]
Over the past 10 years, China has signed 34 cooperation documents with 19 African countries, the AU and the Alliance for a Green Revolution in Africa (AGRA), and carried out continuous dialogues and exchanges on issues such as food security, poverty reduction and agricultural response to climate change, Tang said.
Expecting considerable opportunities for infrastructure and Chinese agro-food companies, Hailemariam Dessalegn Boshe, chairman of AGRA, said "We believe that working with Chinese companies can create win-win opportunities, and we welcome inputs and engagement to co-design these opportunities."
In terms of personnel exchanges, the Ministry of Agriculture and Rural Affairs has sent more than 400 agricultural experts to Africa and trained more than 10,000 managerial and technical personnel for African countries, said Tang.
Demba Sabally, Gambia's minister of agriculture, applauded that the aid and assistance projects provided by China are "extremely meaningful" and have started to make life-changing activities in his country's agricultural sector and farmer population.
"In the framework of South-South cooperation, Gambia has benefited from China's generous support through the provision of agricultural experts," he said.
Deus Gumba, Malawi's minister of lands, shared a similar view, saying "China has the know-how and technology to assist African countries in modernizing their agriculture to increase production. This includes supporting value addition to enable countries like Malawi to export semi-processed agricultural products."
To help Africa's agricultural modernization, China will focus on initiatives to increase the production capacity of crops in Africa, carry out innovative cooperation programs on agricultural science and technology, and implement demonstration projects on poverty reduction.
"In the last years, China has demonstrated strong will and desire to promote and expand its cooperation with South Sudan and many African countries in the fields of agriculture and food security," said Josephine Lagu Yanga, South Sudan's minister of agriculture and food security.
"We remain ready to lift our agricultural cooperation with China to the highest level," she added.
In 2023, the trade volume of agricultural products between China and Africa is expected to exceed 10 billion dollars, nearly double that of a decade ago, and the goal for the next decade is to surpass 20 billion dollars.