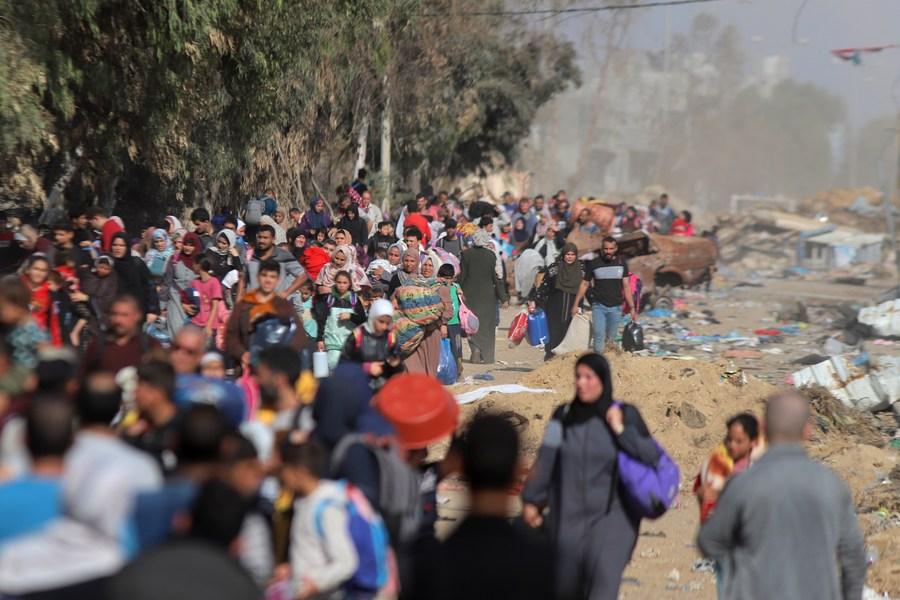 Palestinian people are seen on their way from Gaza City toward the south, in the southern Gaza Strip, on Nov. 18, 2023. [Photo/Xinhua]
Gaza's government media office announced on Sunday that the Palestinian death toll in the Gaza Strip has exceeded 13,000 since the Israel-Hamas conflict erupted on Oct. 7.
Ismail al-Thawabta, the director general of the media office, said at a press conference that among the dead were 5,500 children and 3,500 women, while more than 30,000 others were variously injured.
Al-Thawabta said the number of missing persons has surpassed 6,000, including 4,000 children and women still under the rubble of buildings destroyed by Israeli attacks.
Israel has been carrying out attacks on Gaza over the past weeks to retaliate against the Hamas surprise attack on southern Israel on Oct. 7, during which Hamas militants killed about 1,200 people and took more than 200 hostages.
People walk past the rubble of buildings destroyed in Israeli military operations in the southern Gaza Strip city of Khan Younis on Nov. 17, 2023. [Photo/Xinhua]