"Chinese electronic companies need to further improve their after-sales services and enhance product quality to be more successful in India," said Gong Xiaofeng of the China Council for the Promotion of International Trade, speaking on the sidelines of the China-India Development Forum in Beijing on Tuesday.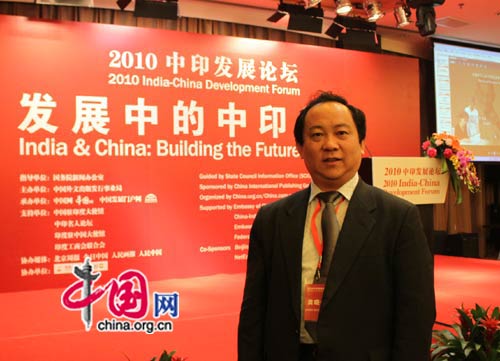 Gong Xiaofeng, vice-chairman of the Electronic Information Industry Branch of China Council for the Promotion of International Trade. [Photo: China.org.cn]
Due to the fast development of the software industry, India has a great demand in hardware equipment and infrastructure construction. This provides huge market opportunities for Chinese enterprises that are well-known for their manufacturing abilities.
Currently, most of the Chinese electronic companies in India are not large-scale companies. Gong said that more policies and regulations will soon be launched to guide them to develop business there.
Compared with their Indian counterparts, Chinese companies have a lot to learn. "Indian companies have a more efficient and standardized performance," Gong said, "and that's why the Indian software industry has made such remarkable progress in recent years."
With the second largest population in the world, India has seen rapid economic development over the past several years. Its software industry, in particular, has made a notable achievement. Today, India exports software and services to about 95 countries around the world.
The China-India Development Forum was held in Beijing on Tuesday to mark the 60th anniversary of Sino-Indian diplomatic ties. With the theme of "Building the Future Together," the forum hopes to encourage development of bilateral ties.