India's Foreign Minister Somanahalli Mallaiah Krishna will kick off the Festival of India in China at the Forbidden City on Wednesday during his first official visit to China.
The festival is one of many ways China is marking the 60th anniversary of diplomatic relations between China and India. Over the next six months, exhibitions on Indian culture and society and performances in Indian music and dancing – including folk, Bollywood, contemporary and rock – will be held in 33 cities around China. The festival will end at a closing ceremony in Chengdu, Sichuan Province, on Oct. 24.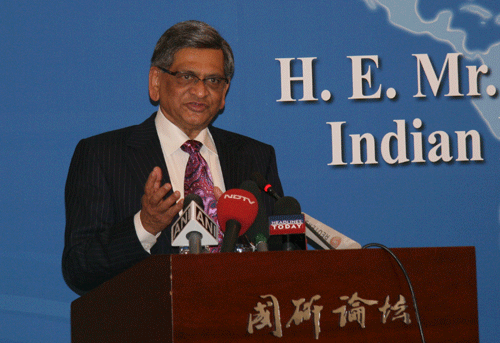 Indian Foreign Minister Somanahalli Mallaiah Krishna delivers a speech at China Institute of International Studies on April 6, 2007.  [Li Shen/China.org.cn] 
"The Indian cultural performance that will take place focuses on our shared heritage of Buddhism," Krishna said.
To commemorate China and India's shared history, an Indian temple is being constructed at White Horse Temple in Luoyang, which is associated with Xuan Zang, a Chinese monk who studied in India and brought back Buddhist masterpieces to China in the early Tang Dynasty (618–907).
Krishna is currently on a four-day visit to China. He will have wide-ranging talks with Chinese Foreign Minister Yang Jiechi on Wednesday and meet Premiere Wen Jiabao before leaving Thursday.