U.S. Republican presidential candidate Rick Santorum is suspending his campaign, the former Pennsylvania Senator announced on Tuesday in his home state, which further cleared a path for front-runner Mitt Romney for a seemingly inevitable GOP nomination.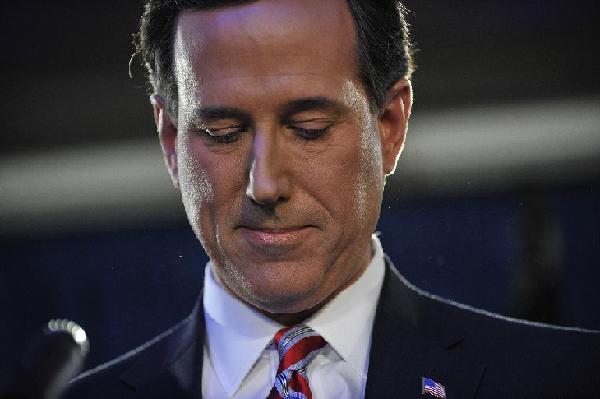 File photo taken on Jan. 3, 2012 shows U.S. Republican presidential candidate, former Pennsylvania Senator Rick Santorum attending a caucus night event in Johnston near Des Moines, capital of Iowa, the United States. Former Sen. Rick Santorum announced on April 10, 2012 that he has dropped out of the presidential nomination race. [Zhang Jun/Xinhua] 
"We made a decision over the weekend that this presidential race was over for me and we will suspend our campaign effective today," said Rick Santorum, surrounded by his wife and children at a news conference in Gettysburg, Pennsylvania, just two weeks before his home state's presidential primary.
The second-place GOP nominee hopeful said that the condition of his youngest daughter Bella, who was hospitalized over the weekend caused him to think about the role as parents. The three-year-old girl, born with a rare chromosomal disorder, was just released from hospital hours before the news conference.
Santorum also signaled he is not leaving the campaign field all behind, vowing "not done fighting."
"We will continue to go out and fight and defeat President Barack Obama," Santorum said.
Santorum declared his campaign team and supporters "made the history", adding "no other presidential comback race like ours." He stressed their "different" accomplishment on the campaign trail, saying that "against all odds, we won 11 states, millions of voters, millions of votes."
The longtime favorite of social conservatives almost surprised everyone with his win in Iowa's first-in-the-nation caucuses and his rise as a "non-Romney" alternative. As he mentioned in his speech, the former senator did win hat tricks, even sweeps, in several campaigns. But he failed to prevent former Massachusetts Governor Mitt Romney, the much-better-funded candidate, from cementing the status as an inevitable GOP nominee.
Santorum did not mention Romney at the news conference, whom he repeatedly criticized as "flip-flopper" to suit the politics of the moment. Yet his drop-off was believed to clear way for Romney, the leading Republican candidate for the Republican nomination for president.
Santorum spoke with Romney just before he made the announcement, the U.S. media cited a Republican source close to the campaign as saying.
Santorum had resisted calls to end his race in the face of front-runner Romney's commanding lead, and been expected to hold on through the next GOP primary to be held in Pennsylvania on April 24. Recent polls showed that the two leading candidates are virtually tied in the state. But Romney is gathering momentum in the Republican nomination contest following recent victories.
Romney has accumulated 659 delegates, more than twice as 275 delegates as Santorum has won, well expected to reach the 1,144 needed to clinch the nomination by early June.
Former House Speaker Newt Gingrich and Texas Congressman Ron Paul are still trailing far behind in the race, and not considered a threat to Romney's inevitable nomination.
Romney made a prompt response to Santorum's announcement. He called his former closest rival in the race as "an able and worthy competitor" and "an important voice in our party and in the nation. "
The latest Gallup poll results showed that Romney had maintained a double-digit lead over Santorum for more than two weeks among Republican voters. Romney was favored as the choice of 41 percent of Republican voters and Santorum the choice of 25 percent.