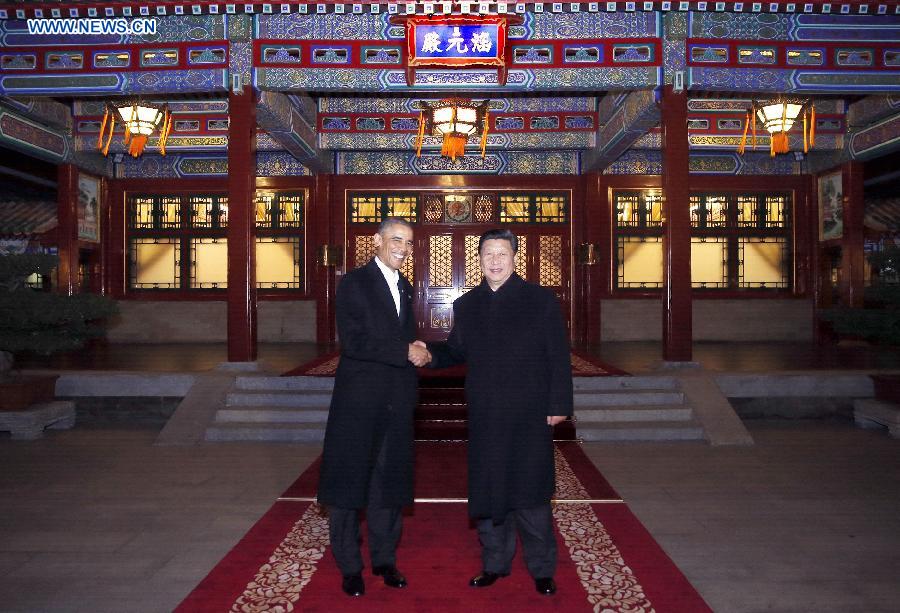 Chinese President Xi Jinping (R) meets with U.S. President Barack Obama at the Zhongnanhai leadership compound in Beijing, capital of China, Nov. 11, 2014. [Xinhua photo]
Chinese President Xi Jinping will pay a state visit to the United States from Sept. 22 to 25 at the invitation of U.S. President Barack Obama.
Xi will visit two locations on his state visit in the United States, namely Seattle and Washington D.C.
In Seattle, the president will attend a welcome banquet co-organized by the local government and local American groups that support Sino-American friendship. Xi will deliver an important speech regarding Sino-American relations at the banquet.
Xi will meet with local and federal politicians and dignitaries in Seattle, attend the Chinese provincial governors and US State governors' summit forum, the China and American entrepreneurs' symposium, as well as a welcome reception on behalf of the Chinese communities in the US. Xi will also visit local enterprises and schools.
In D.C., the president will attend a set of state visit activities hosted by President Obama, including a welcome ceremony, meetings on a large or small scale, a joint press conference, a state banquet and more. Xi will also attend a welcome lunch co-hosted by US Vice President Joe Biden and Secretary of State John Kerry, and meet with leaders of the US Congress.
At the invitation of U.N. Secretary-General Ban Ki-moon, Xi will visit the UN headquarters in New York to attend a series of summits to commemorate the 70th anniversary of the establishment of the United Nations from Sept. 26 to 28.
Xi will have a busy schedule which includes attending the general debate of the UN General Assembly and the United Nations Sustainable Development Summit, giving speeches to illustrate China's opinions and proposals regarding world order, development, and administration as well as announcing China's significant moves to maintain world peace, promote cooperative development, and support the United Nations and multilateralism. He will host the Global Summit of Women and the South-South Cooperation roundtable. Xi will also attend important events such as the leaders' lunch meeting on climate change issues. The Chinese president will also hold a bilateral meeting with leaders of several relevant countries to exchange views about how to maintain the UN's authority, enhance bilateral relationships and cooperate in international affairs.