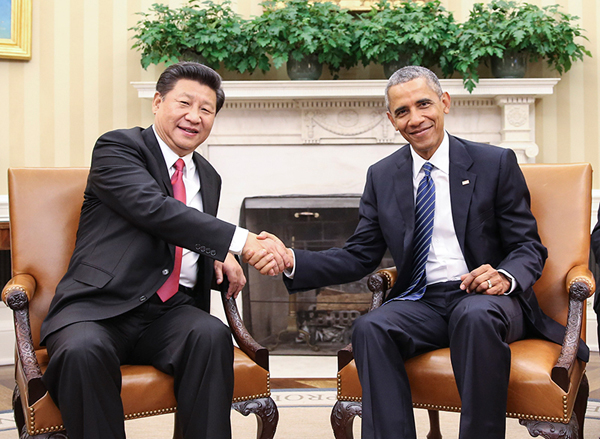 Chinese President Xi Jinping (L) meets with U.S. President Barack Obama (R) in Washington D.C. on Sept. 25. [Photo/Xinhua]
Commitments from China and the United States, the world's two largest economies, injected fresh energy into the battle against climate change, while bolstering prospects for an ambitious pact in Paris later this year, environmental experts said.
On Friday, Chinese President Xi Jinping and his U.S. counterpart Barack Obama concluded their meeting at the White House with a joint statement that outlines a series of domestic actions and financial pledges, including China's commitment of a 20-billion-yuan (3-billion-U.S. dollars) fund to help other developing countries combat climate change.
The commitments, which came just about a week after the China-U.S. Climate Leaders Summit in Los Angeles, built on a historic agreement that Xi and Obama reached last November in Beijing, where China agreed to peak emissions around 2030 while the U.S. pledged to cut emissions by 26 to 28 percent below 2005 levels by 2025.
Significant shift in climate finance
"I think this is very encouraging to hear details on how China and the United States each laid out some steps for turning the fall climate agreement into concrete action," Jennifer Turner, director of the China Environment Forum at the Woodrow Wilson International Center for Scholars, a Washington D.C.-based think tank, told Xinhua.
A highlight of the joint statement is that in 2017 China will launch a landmark national emissions trading system (ETS) covering power generation, steel, cement, and other high-emitting sectors, on which China has been working for about 20 years with some U.S. partners.
Although the seven ETS pilot programs that have been going on in Chinese cities and provinces are not universally successful yet, they are useful for helping experiment with what could work in China so the system can be expanded nationally, Turner said.
And by committing at the highest level to such a program, China is making its intentions clear to businesses and investors about its shift to a low-carbon economy, Andrew Steer, president of the Washington D.C.-based environmental group World Resources Institute, said in a statement.
"This is a remarkable commitment, especially from China, which still has a smaller GDP than the United States, and on a per capita basis is much poorer," said Deborah Seligsohn, an expert on the Chinese environment at the University of California San Diego.
Sarah Ladislaw of the Center for Strategic and International Studies (CSIS), a U.S. think tank, and Michelle Patron of the White House National Security Council, described the climate finance pledge from China as "a significant shift" in the climate finance landscape as it expanded the pool of major donors beyond just industrialized countries.
"Climate finance, specifically the ability of countries to deliver on their finance pledges, will still be a contentious issue in the upcoming negotiations, but China's finance pledge changes the debate in a positive direction," they wrote in an article posted on the CSIS website.
Steer expressed similar views, calling the pledge "a watershed moment" that elevates China to a new level on climate finance. "These new funding streams should reassure developing countries that climate finance will be available from a broader pool of contributors," he added.
For its part, the U.S. government reaffirmed its 3-billion-dollar pledge to the UN-backed Green Climate Fund, which Obama made last year during a G20 meeting in Australia. However, all U.S. government spending is in the hands of Congress, where Republican lawmakers have vowed to block Obama's first 500-million-dollar funding request.
Friday's joint statement may be a timely help for Obama, who intends to cement his climate legacy before he leaves office in 2016.
Ladislaw and Patron said there is also "strong symbolism" in China's decision to announce its emissions trading system in Washington, where congressional support for similar proposals has failed due in part to competitive concerns vis-a-vis China.
"The debate about comparability of effort will of course be an ongoing area of interest, but it is now impossible to say either country is inactive," they said.
Enhancing prospects for Paris agreement
At the Climate Leaders Summit in Los Angeles on Sept. 15-16, about two dozens of Chinese and U.S. local governments announced their ambitious plans to combat climate change.
In the China-U.S. Climate Leaders' Declaration signed by China's Beijing, Sichuan, Hainan, Guangzhou and U.S. California, Connecticut, Los Angeles, New York, Washington D.C. among around a dozen other provinces, states and cities, all of the participants set their goals of emission reduction in the next decades.
Eleven Chinese provinces and cities are committed to achieve the peaking of CO2 emissions by 2020 to 2030, while U.S. states and cities committing to increase their percentage of renewable energy and reduce greenhouse gas emission by a substantial amount.
Taking California for instance, the leading U.S. state is going to reduce emissions by 40 percent below 1990 levels by 2030 and 80 percent by 2050, which is the most ambitious target in North America.
"President Xi's announcement combined with the commitments by 11 Chinese cities and provinces last week to undertake more rapid climate action with U.S. partners is a good sign to help catalyze more serious commitments from other countries in the upcoming climate talks," Turner said.
The prospects for reaching an ambitious agreement at the December's UN climate talks in Paris also brightened, he said.
The new promises "may help break the logjam in much the same way that text from last November's joint announcement bridged the divide between developed and developing countries in the Lima negotiations last year," Ladislaw and Patron wrote. The pledges are "clearly intended to enhance the prospects for diplomatic progress heading into December."