The water level in Tangjiashan quake-formed lake in southwest China's Sichuan Province is expected to fall on Tuesday, three days after drainage efforts began.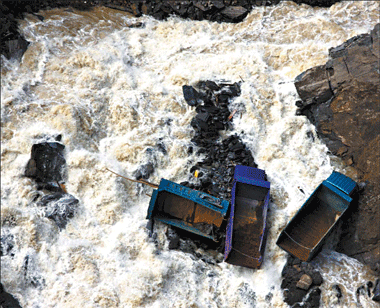 Abandoned trucks flow like toys in the sea of water gushing out of the Tangjiashan quake lake in Sichuan province yesterday. The volume of water flowing into the lake's drainage channel has increased, but the authorities still worry heavy rainfall and aftershocks can cause a breach in the lake's dam leading to flash floods. [Photo: Xinhua]
Drainage of the quake lake through a manmade spillway speeded up to 500 cubic meters per second on Tuesday morning, far faster than the estimated influx of 110 cubic meters per second, Xinhua reporter Li Yun reported from Tangjiashan.
Li quoted Ge Zhenfeng, commander-in-chief at the Tangjiashan quake lake emergency headquarters.
The headquarters has tightened up monitoring of the site and has in the meantime begun to evacuate some of the emergency workers, mostly soldiers with the People's Liberation Army and the armed police.
As of 7:20 am, the lake's water level stood at 742.8 meters, slightly down from the 742.96 meters reported 12 hours ago, said Song Dongfeng, an officer of the hydropower force of the armed police.
More than 200 armed police officers have been working around the clock for four days to drain the lake, which threatens some 1 million residents living in the lower reaches of the river if it overflows.
A manmade spillway started to drain the lake on Saturday morning and military engineers have fired short-range missiles several times on Sunday and Monday to blast boulders in the channel and speed up the outflow.
More than 250,000 people in low-lying areas in Mianyang City were relocated under a plan based on the assumption that one-third of the lake volume breached the dam.
The Tangjiashan quake lake, formed after quake-triggered landslides from Tangjiashan Mountain, blocked the Tongkou River running through Beichuan County, one of the worst-hit areas in the May 12 quake.
(Xinhua News Agency, China Daily, June 10, 2008)