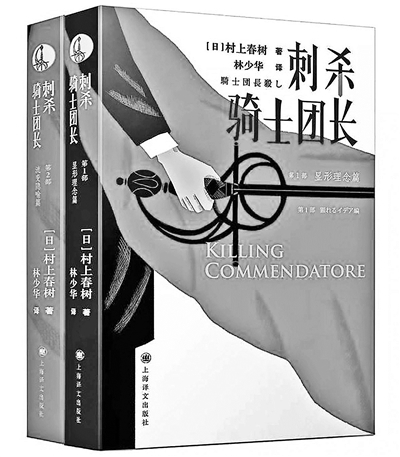 The Chinese version of "Killing Commendatore", a new novel written by prestigious Japanese author Haruki Murakami, is expected to be released around March 10, said Huang Yuning, a department head at Shanghai Translation Publishing House, the book's Chinese publisher, Beijing Youth Daily reports.
Presale of the book, which has 700,000 copies printed for its first edition, was launched on Feb. 5.
The book has aroused widespread attention in China for the author's reflections on war crimes Japan committed during its aggression against China, including the Nanjing Massacre.
In Murakami's novel, the hero, a 36-year-old Japanese portrait painter, found a mysterious painting titled "Killing Commendatore" in the attic of a renowned artist's house. The book then relates the sad life experiences of the artist, author of the painting and his family members.
Part of the story is about the artist's younger brother who was enlisted into the Japanese army and dispatched to China in 1937 when Japan began its full-scale invasion of China. The soldier suffered strong trauma for killing Chinese captives in the most atrocious ways, which, as a consequence, led to his suicide after retirement from military service.
Murakami touched upon not only the invasion and occupation of Austria by Nazi Germany in 1938, but historical facts including the Lugouqiao (Marco Polo Bridge) Incident and the Nanjing Massacre in 1937.
The invading Japanese troops brutally killed more than 300,000 Chinese civilians and unarmed soldiers over a period of six weeks following the capture of Nanjing in 1937.
In regard to the viciousness of war, the author has shown his immense concern on how war can crush every young heart's longing for a promising and beautiful life.
However, Murakami's novel has met intense attacks from Japan's right-wing extremists who have been consistently trying to deny the massacre. They have accused Murakami of seeking to flatter China and using the book as a stepping stone towards winning the Nobel Prize in Literature.
In response, Murakami stressed that his motive in writing this story was to fight against any attempts to distort history.
For every country in the world, history is a collective memory. Therefore, it is wrong to forget it as a thing of the past or fabricate it. Such attempts should be met with protest, Murakami said during an interview last April.
Novelists can fight against such attempts by means of storytelling, and I believe in the power of stories, he added.
Li Shengjie, a scholar of Japanese literature from Wuhan University, refuted the right-wing allegations, insisting Murakami did not make a sudden change in his focus in an effort to win the Nobel Prize.
Different from his early works which mainly involve personal experiences and feelings, his novels have undergone a gradual change in subject and style since 1995, when the author was stunned by the Aum Shinrikyo cult sarin gas attack in Tokyo's subway system, Li explained.
The tragedy has aroused his concerns over social and historical issues, which can be reflected in his ensuing stories such as "IQ84". His continued contemplation of the historical problems facing his country inspired his latest work, the scholar said.
Murakami, a prolific and iconic writer in Japan, rose to stardom with his book "Norwegian Wood" published in 1987.