Editor's Note:
The lucrative Spring Festival holiday will see a colossal showdown between this year's tentpole films, including fantasy epic "The Monkey King 3," military-action film "Operation Red Sea," detective comedy "Detective Chinatown 2" and the sequel to one of the highest-grossing Chinese films "Monster Hunt," as well as the animated feature "Boonie Bears: The Big Shrink" and comedy "The Faces of My Gene."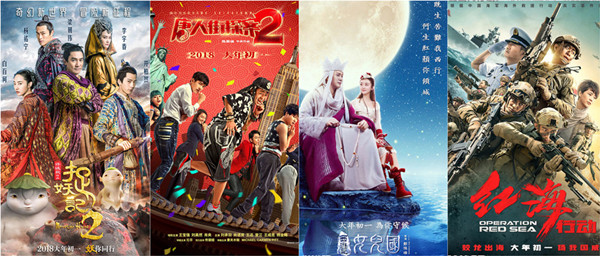 This year's Spring Festival season will no doubt break a series of Chinese box office records, as "Monster Hunt 2" has already earned more than 200 million yuan (US$31.55 million) in presales, the highest presales achievement ever. Analysts believe the first day of Lunar New Year could witness total film sales breaking the 1 billion yuan (US$157.8 million) mark in a single day.
But due to high production costs, the producers of potential blockbusters still face high risks. They have to attain combined sales of 7 billion yuan (US$1.11 billion) to ensure they can earn back their investment. For example, "Monster Hunt 2" was reportedly made with a 900 million yuan (US$142.95 million) budget, while "The Monkey King 3" reportedly cost 550 million yuan (US$87.34 million).
There are also some differences this year compared to previous years. The industry now prohibits distributors from exploitive measures such as selling extremely cheap movie tickets, which would encourage unfair competition and an unhealthy market. In addition, the two biggest films "Monster Hunt 2" and "Detective Chinatown 2" will not be released with 3D versions, which usually have higher ticket prices, due to the fading enthusiasm for the 3D format around the world.
Which film will eventually be the winner of the Spring Festival holiday remains to be seen. The first three days of sales will likely rely on marketing and promotion, but sales during the rest of the holiday will depend on word of mouth and the films' quality.