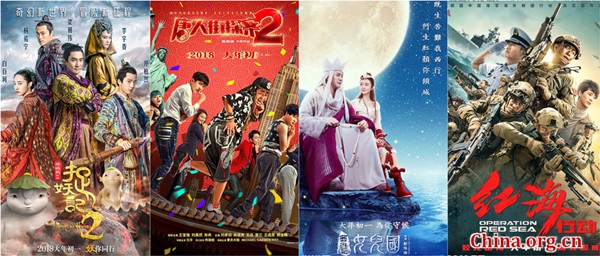 The seven-day Chinese lunar New Year national holiday witnessed the Chinese film market reach unprecedented territory with twists and turns between the rivals culminating in six films grossing 5.65 billion yuan (US$890.39 million) in six days.
It was a whopping 67 percent increase on last year's Spring Festival film season, which grossed 3.38 billion yuan (US$532.19 million). About 140 million Chinese people packed theaters nationwide since the second day of the official lunar New Year holiday (no blockbuster was screened on the first day of the holiday, which is the eve of the lunar New Year, also known as Spring Festival).
There were also hundreds of other film records smashed. Raman Hui's family fantasy film "Monster Hunt 2" was the most anticipated film of the Spring Festival season. It broke presale records, earning more than 300 million yuan (US$47.25 million) and shattered the opening-day and single-day records on Chinese lunar New Year's Day on Feb. 16 with a stunning total of 540 million yuan (US$85 million).
On the same day, Chen Sicheng's detective comedy "Detective Chinatown 2" grossed 337 million yuan (US$53 million) while the other two tentpole films Cheang Pou-soi's "The Monkey King 3" and Dante Lam's "Operation Red Sea" grossed 162 million yuan (US$25.51 million) and 128 million yuan (US$20.15 million) respectively. Combined with a massive gross from advanced screenings on Valentine's Day, "The Monkey King 3" also reached 347 million yuan (US$54.63 million) on its de facto opening day.
Combined with the other box office performances of animated feature "Boonie Bears: The Big Shrink" and comedy "The Faces of My Gene," the Chinese film market sold more than 1.26 billion yuan (US$198.4 million) worth of tickets, a new one-day record for a single market in the world – breaking the previous record when "Star Wars: The Force Awakens" and other films grossed US$137 million in North America on Dec. 18, 2015. This one-day figure also surpassed the entire year's total gross for the 2003 Chinese film market, which was unimaginable only a decade ago.
The figures also reflect several differences compared to previous years. The industry prohibits distributors from exploitive measures such as selling extremely cheap movie tickets, which would encourage unfair competition and an unhealthy market. In addition, the two biggest films "Monster Hunt 2" and "Detective Chinatown 2" did not release 3D versions, which usually have higher ticket prices, due to the fading enthusiasm for the 3D format around the world, and in turn, actually attracting a larger audience with cheaper ticket prices which appeal to older and younger moviegoers who are not comfortable with 3D glasses.
Yet even more excitement remains in finding out who will finally win this year's wild Spring Festival film season. The first three days of sales may likely rely on marketing and promotion, but sales during the rest of the holiday depend on word of mouth and the films' quality.
By the end of the Spring Festival holiday, "Detective Chinatown 2" made 1.89 billion yuan (US$298 million) and topped all the other films so far. It made stable yet stunning performances at the box office while receiving mostly positive reviews during the six days.
While "Monster Hunt 2" was the fastest to surpass the 1-billion-yuan mark in Chinese film history ever, it received many negative reviews and ending up a relative disappointment – already dropping on the third day of the holiday. It has now grossed 1.69 billion (US$267.45 million).
"The Monkey King 3" was the season's biggest loser due to bad reviews. With a budget as high as 550 million yuan (US$87.34 million), it only grossed 612 million yuan (US$96.4 million) to date. As the previous two "Monkey King" episodes grossed more than 1 billion yuan (US$157 million) each at the box office during the same lucrative season in 2014 and 2016, the producers upgraded the production in expectation of the third episode to fetch 1.5 - 2 billion yuan. However, it started to fall out of top 3 on the box office chart on its second day and was surpassed by "Operation Red Sea." On its fourth day, it was unseated by more positively viewer-reviewed children-targeted animation "Boonie Bears: The Big Shrink."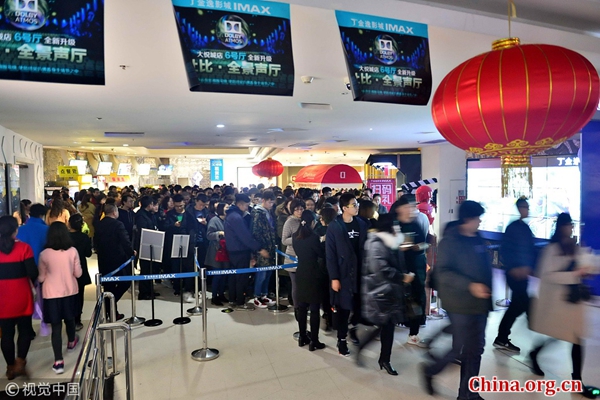 Despite seeming unfit to have the hardline, violent military blockbuster - "Operation Red Sea" debut in a celebratory festival season, the film triumphed as a dark horse. "Operation Red Sea" follows on in similar style to that of Lam's "Operation Mekong" and of Wu Jing's "Wolf Warriors 2." It was least promoted and received the lowest presales compared with other blockbusters before the Spring Festival began. But its producer Yu Dong, president of Polybona Films, predicted it could be the eventual biggest winner of the festival race when word-of-mouth spread. It did. It has the highest score of 8.5/10 on Chinese film review site Douban.com, and sold more and more tickets as every day went by. It surpassed "The Monkey King 3" on its second day, surpassed "Monster Hunt 2" on its fourth day, and will surpass "Detective Chinatown 2" for daily gross on its seventh day of release. It has grossed 1.2 billion yuan (US$189 million) by the end of the holiday.
"Boonie Bears," one of China's most successful animation franchises, also saw its fifth installment become a winner of the season benefitting from keen interest from children and parents. It grossed 411 million yuan (US$64.74 million) after six days. However, the directorial debut of comedian Guo Degang, "The Faces of My Gene," failed miserably in the year's most profitable period. It only grossed 88.64 million yuan (US$13.96 million) although employing 33 of the biggest stars either as cast members or in cameo roles, including Yue Yunpeng, Wu Jing, Wang Baoqiang, Da Peng, Li Chen and Lin Chi-ling.
Although the Spring Festival holiday ended, box office analysts believe all the films have the potential to break more records. In forecasts, the final tallies for "Operation Red Sea" and "Detective Chinatown 2" will be very close and the two films will each reach as high as 3.5 billion yuan (US$551 million) and enter the highest grossing films of all time ranking. "Monster Hunt 2" will land in the 2.5 billion yuan (US$393.84 million) range, slightly better than its first installment. "The Monkey King 3" will end up at about 800 million yuan (US$126 million) causing big losses for its investors.
Observers said the Spring Festival gold rush again indicates the Chinese film market's great potential, as China already has more than 50,000 screens, the most in the world. The box office rivalry also signals both direction signs and warning signs for film producers to serve the new savvy film consumers.