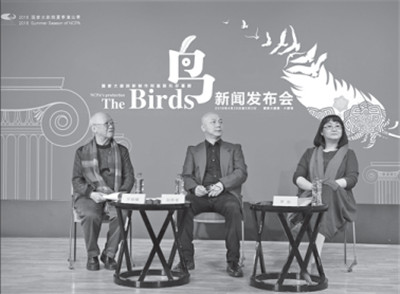 The Birds, a comedy by the ancient Greek playwright Aristophanes, which has been adapted into a Chinese play of the same name, will make its debut at the National Center for the Performing Arts in Beijing on April 26. Running through May 2, the play is the NCPA's first in-house production of an ancient Greek comedy and will be directed by dramatist Luo Jinlin.
Luo, 80, who graduated from the Central Academy of Drama in Beijing in 1961, has been researching ancient Greek plays and adapting them into Chinese since the 1980s.
His father, the late Luo Niansheng, who studied in the United States and at the American School of Classical Studies in Athens, started translating ancient Greek literature in 1933.
The NCPA production of The Birds is based on Luo Niansheng's translation.
In 1954, Luo Niansheng released Works of Aristophanes, in which he translated four of the Greek master's works, including The Birds.
Written by the "father of comedy" and first performed in 414 BC, The Birds revolves around two friends, Peisthetaerus and Euelpides, who leave the city and go in search of the fabled kingdom of birds.
Luo Jinlin says ancient Greek dramas, both comedic and tragic, had been introduced to China during the Ming Dynasty (1368-1644) by missionaries.
"When I was invited by the NCPA to direct an ancient Greek drama, I chose comedy because ancient Greek comedies have rarely been performed in China," he says.
"The storyline of The Birds is simple-witty, idealistic and satirical."
He adds that comedies inspire the audience with hilarious stories.
The bird is an ancient Greek symbol, which is associated with astrology. It's considered to be a bridge between heaven and the world of humans since most can fly and some live on the ground.
"In the play, birds represent nature and hardworking humans," Luo Jinlin says.
To give the comedy a contemporary flavor, translator Luo Tong, Luo Jinlin's daughter, who is also the co-director of the Chinese play, has used more conversational language in it.
"For example, we have changed the long names of the characters into shorter ones, especially the names of ancient Greek gods," says Luo Hong.