"Spittoon started as a monthly poetry event and became something a lot larger," said founder Matthew Byrne at an event Thursday celebrating the third anniversary of the international literary gathering Spittoon Poetry Night.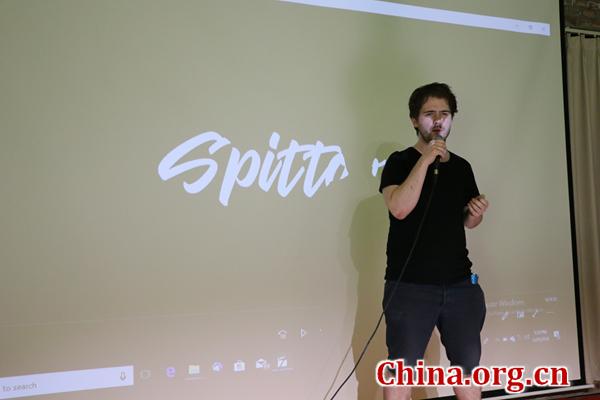 Spittoon's anniversary event featured performances from 14 Beijing-based poets ranging in age from their 20s to 60s and hailing from various nations, including China, the U.S., Britain, South Africa and Spain. Past poetry nights have brought together writers from six continents through the shared language of English, which for many is their second or third language.
At Thursday's event, poets shared works covering a wide range of topics, all centered around the night's theme of "Birth/Rebirth," and styles spanning traditional verse, performance poetry and experimental free verse. The "Poetry in Translation" segment featured two translators from China reading poems they had translated into English from Chinese and Lithuanian, respectively.
The event's founder, 29-year-old Matthew Byrne from the U.K., said he started Spittoon as a reading series in 2015 because there wasn't anything like it at the time and he saw huge potential within Beijing's international literary community.
In celebration of the anniversary, Byrne screened a short documentary which followed some of the many organizers and participants that have come together under the Spittoon collective as they attended various Spittoon literary events in the fall of 2017. The film opens with a slide summarizing the group's past and future mission:
"Over the last three years of Spittoon's existence, we have been lucky enough to facilitate a common ground between the vast and magnificent Chinese literary scene and an international group of writers writing from and about Asia. We consider it an honor to continue to work with such inspiring people to deepen that understanding, and to continue to explore the endless creative possibilities that we find before us."