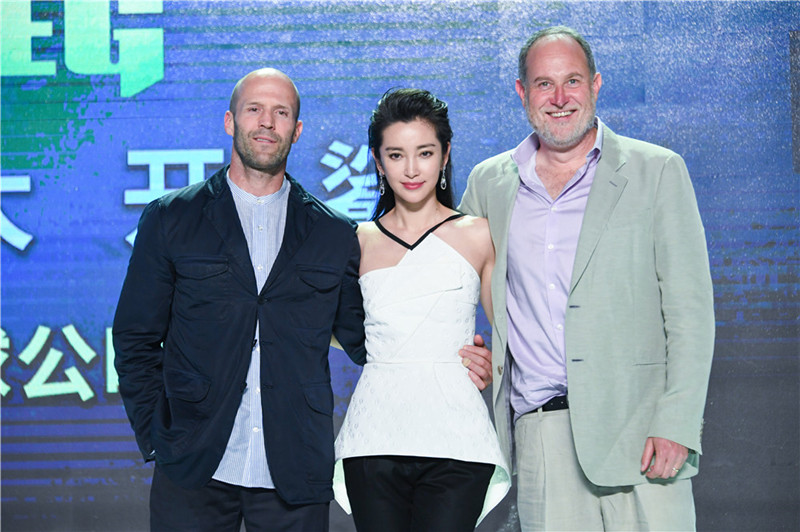 Chinese actress Li Bingbing revealed on Sunday in Shanghai that she nearly died while shooting the sci-fi horror film "The Meg."
"I've always been afraid of water, but one of my scenes required me to be put in a cage five or six meters underwater, and I had to hold my breath for a very long time," Li said at a press conference held during the 21st Shanghai International Film Festival. "We had to reshoot the scene again and again and I felt like I was going to die."
At one point, she told the director, Jon Turteltaub, that she wouldn't be able to go on much longer, but instead of giving her a break, he asked her to hold her breath for 15 more seconds. "When they took me out of the water, the director came to compliment me, but I was too weak to speak, then he started to fear that I was really close to death."
But the director didn't stop there -- he also frequently made dialogue changes and continually pushed the actress to give a better performance, Li said.
"I just wanted more from you," director Turteltaub explained at the press conference while Li admitted she gave it everything she had. After watching the film's trailer, she states she is happy with her work.
Her co-star Jason Statham agreed and said "The Meg" was probably the most challenging film he had ever worked on. He added that it was very hard to communicate when shooting underwater scenes because they require a lot physical strength, endurance, and patience. "Everything, from camera adjustment to lighting, is totally different from how we shoot scenes on land."
The film's principal photography was shot in New Zealand in 2016.
"The Meg" is based on the sci-fi book "Meg: A Novel of Deep Terror" written by Steve Alten in 1997. The film, starring Jason Statham, Li Bingbing, Rainn Wilson, Ruby Rose, Winston Chao, and Cliff Curtis, is a story about a group of people who encounter and fight a monstrous megalodon, a 75-foot-long prehistoric shark once thought to be extinct, but which rises from the depths off the Chinese coast to wreak havoc upon those in its way.
"The Meg" was described by Chinese audiences as a "deep ocean version of Jurassic World." the director joked at the press conference, "I hope it is, because 'Jurassic World' made a ton of money."
The film will hit Chinese screens on August 10, 2018.