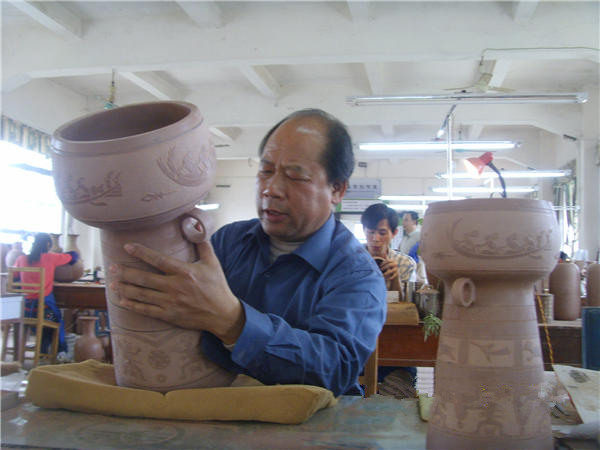 Li Renping has come a long way-from an apprentice to an established artist, thanks to Nixing pottery that he lives and breathes.
Li Renping wipes the sweat from his forehead as he walks in from the sweltering interior of the Nixing Pottery Museum in early July.
Tucked away in a quiet corner of Qinzhou, Guangxi Zhuang autonomous region, the museum that Li and his friends set up in 2007 features the history, culture and production of Nixing pottery that has a history dating back more than 1,300 years.
The pottery uses two types of local clay that are mixed to a certain ratio, which ensures a hard and compact texture combined with a smooth-looking surface.
Wearing a casual outfit and a pair of brown plastic sandals, the 72-year-old has an unadorned earthy quality that doesn't do justice to the many honors piled on him over the years, including a national applied arts master and an inheritor of national intangible culture.
Li was evidently more in his element when he sat down and talked to China Daily about Nixing pottery, an art form he has committed more than four decades of his life to developing.
One of the charms of Nixing pottery is that the colors emerge during the firing process without any additional pigment, he explains.
"You can see many colors in transition, from a black-green to bronze and then to a purplish red," Li says.
The pottery has no toxins, doesn't require glazing like porcelain and retains its natural small pores that can allow the air to permeate while still holding water.
"You could use it as a flowerpot and it wouldn't smell for years," Li adds.
A love of painting and sculpting predisposed Li to learn the art of Nixing pottery-making back in the 1970s.