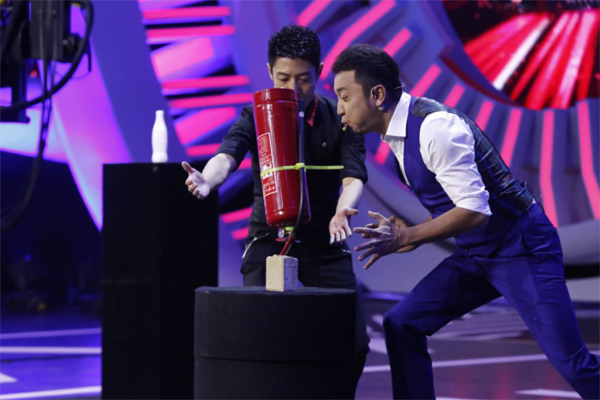 The new season of CCTV's education quiz show will feature a gravity-defying goal by a Brazilian soccer star, and an aspiring 12-year-old tech entrepreneur, Wang Kaihao reports.
Former Brazilian footballer Roberto Carlos was famous for his powerful free kick. Perhaps his most famous goal came in a game against France on June 3, 1997, when he scored by curling the ball so heavily that a ballboy on the touchline instinctively ducked to avoid it.
Yet, within an instant, the ball swung back on target and arched into the back of the net, leaving the dumbfounded French goalkeeper rooted to the spot.
This video clip has been broadcast so many times over the past two decades, that it's often hailed as a goal that most appears to disobey the natural laws of physics.
And when Roberto Carlos took to the stage of China Central Television variety show Cheers Sciences to relive his proud moment on screen, he was asked a question by the host.
"What forces affected the football when it flew through the air like that? Gravity? The force of the kick from your foot- or both?"
The Brazilian star who was so skillful when it came to handling the ball didn't appear to have a full mental picture of the physics behind the kick-and promptly offered up the wrong answer.