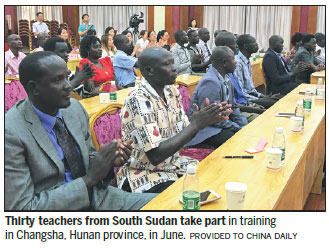 More than 1.29 million English textbooks compiled by Chinese experts will be used by first-grade students in South Sudan in the coming school year.

The textbooks are part of China's first educational aid project since 2012, which is being led by the Ministry of Commerce and the China South Publishing and Media Group, based in Hunan province.
Experts have also complied syllabuses for math, English and science for South Sudanese first-grade students.
Gong Shuguang, chairman of China South Publishing and Media Group, said the textbooks are based on local features and include images of native animals and trees, buses and buildings.
All the characters in the textbooks were designed based on local children and have African names, he said.
The company also conducted thorough research to compile three English reports on the biggest problems facing South Sudan's education development, including shortages of textbooks and teachers as well as backward educational infrastructure, Gong said.
He added that the reports offer short-and long-term suggestions to improve education conditions.
According to data from South Sudan's government, an average of five primary students use one textbook in class. In middle schools the ratio is 7-to-1.
In June, 30 teachers from the African country completed a weeklong training course in Changsha, Hunan province, that was offered by the company to help them better use the textbooks. About 200 teachers have received the training so far.
More than half the teachers in South Sudan have not received professional training and the country has a shortage of qualified teachers, according to John Gai Yoh, a former minister of education, science and technology of South Sudan.
The course helps the teachers become more professional, he said, adding that the country needs professional teachers to run its education system.
South Sudan is one of the world's youngest countries, while China has a long and profound history, he said. However, both countries attach the same importance to education and have the same aspiration to make their countries stronger and more beautiful through education.
Yoh added that he hopes the two sides can further strengthen cooperation to help South Sudan build a high-level modern education system.