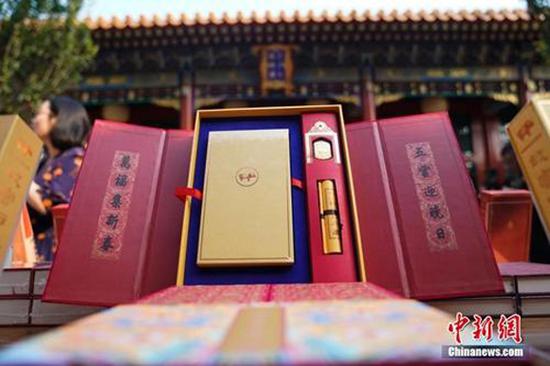 The Palace Museum has issued a variety of innovative cultural souvenirs in recent years, such as pillows and watches, and many have turned into best-sellers. The Imperial Palace Calendar is the latest success, with 700,000 copies produced in the first print for its 2019 edition and brisk monthly sales. So how does the calendar stack up?
What is the new calendar like?
The Palace Museum unveiled the 2019 edition of Imperial Palace Calendar during a news conference.
2019 is the 36th year of the Chinese sexagenary cycle and its zodiac animal is the pig, which symbolizes affluence and happiness. Reporters at the event saw the new calendar had a porcine theme, where each month highlights relics in the Palace Museum under a different motif.
Each of the 12 months is distinctive, yet all center around the concept of good fortune and a better life within traditional Chinese culture.
The calendar opens up with a picture featuring the Chrysanthemum Pattern Teapot made during the reign of Emperor Qianlong of the Qing Dynasty (1644-1911). A chrysanthemum style decorates the teapot's mouth and lid, harmonizing with the brilliant pattern in the body of the teapot. The picture emphases both realism and artistic concepts, demonstrating magnificence and fortune.
Sales of the first print for the 2019 calendar has already reached 700,000 copies. Online sales, which began in August, have exceeded 10,000 copies per month, based on data from leading e-commerce platforms.