Speaking at a film education forum held on Thursday during the first Hainan International Film Festival, experts said China currently did not possess sufficient international, versatile, and craftsman-type talents to meet film industry needs, but this deficiency gradually was being overcome.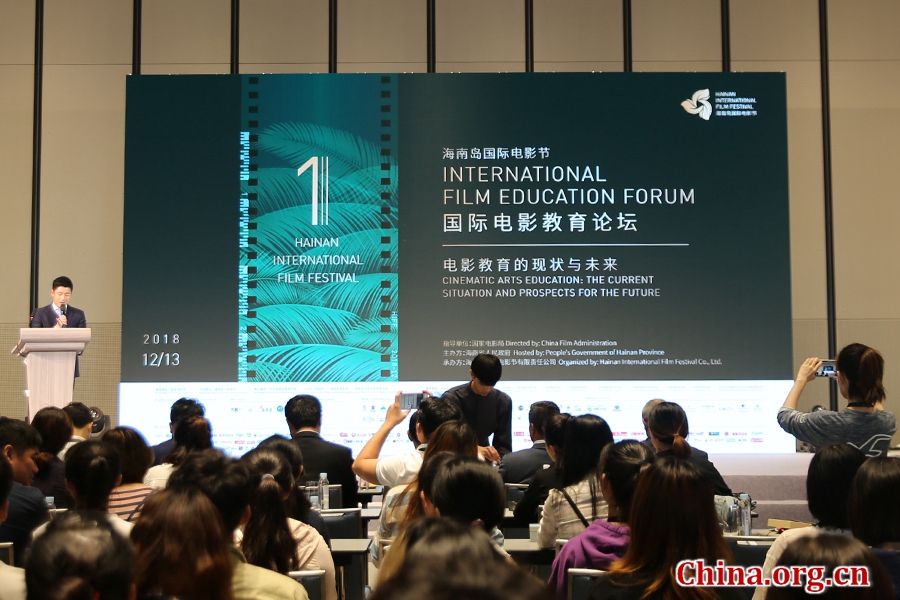 The International Film Education Forum is held during the first Hainan Island International Film Festival in Sanya, Hainan province, Dec. 13, 2018. [Photo/China.org.cn]
Professor Hou Guangming, secretary of the Party Committee of Beijing Film Academy, said that, with China undergoing film administration system reform and tax rectification, the industry's general development trend was still optimistic in the long term.
He was speaking at the International Film Education Forum focusing on the theme of "Cinematic Arts Education: The Current Situation and Prospects for the Future."
China's film industry was passing through a period of flourishing prosperity and diversified development. In 2018, it made 890 films approved for theatre release, while the number of online broadcast movies surpassed 2,000. Domestic box office returns were expected to exceed 60 billion yuan (US$8.68 billion), so that China was likely to surpass North America to become the world's biggest market in the next two years, he said.
The professor noted that, since the reform and opening up program began 40 years ago, the film industry had been able to create its own style and distinctive characteristics. However, the industry could not continue to develop without rational and sustainable development of film education.
There had been rapid development in this regard. The latest figures show that a total of 425 universities had enrolled a broad range of undergraduate students in film and television majors this year.
Yet, there were still problems of a mismatch between supply and demand in Chinese film education, and there remained a gap in talent training models and concepts between China and the developed countries such as Europe and the United States, Hou said.
Professor Hu Zhifeng, dean of School of Arts and Communication at Beijing Normal University, said that, in the past, Chinese universities only trained talents for a single type of work in film studios, and there remained shortages in technicians and artisans with international-vision and versatility.
Regarding artisan-type talents, he cited the example of the production process of a certain film, where a studio needed people to paint eight Roman columns on the film set and had to ask drivers and bodyguards to carry out the work. When they finished, the Roman columns seemed to look fine, but when taken onto the film set, they could not be used in the shooting because they were, in fact, of very poor quality and the studio eventually had to hire painting talents from Hollywood to redo them.
"In China we have no one qualified for this job. It seems simple, but, in fact, it requires a craftsman-type talent," Hu said. The in-depth research of psychology, sociology, aesthetics, art and communication needs to be enriched for the future film development, he added.
The dean also noted that, in the past, Chinese film education paid more attention to professionalism and technicality. However, as the connotations of films started to expand, it was necessary for the educational side to explore the underlying cultural genes in a deeper way.
"Especially many aspects of national culture, including historical culture, revolutionary culture and contemporary culture, all need to be infused into film education," he added.
Regarding film and national culture, Howell Gu, dean of International School of Management and head of Asian-Pacific Film Research Institute at Rattana Bundit University in Thailand, said: "In film creation, national cultural resources have always been a unique resource for each country. It is the most stable part of cultural identity."
Professor Fan Zhizhong, associate dean of College of Media and International Culture, Zhejiang University, added that, in terms of film education, the three most famous higher-education film schools in the United States had been established in comprehensive universities, which was good for the cultivation of versatile talents.
Meanwhile, Diwakar Gandhi, vice president of the Academy of Art University in United States, offered a highly-industrialized educational philosophy, stating: "We want to make sure that those film students are able to find their favorite jobs in the film industry, such as movie production, visual effects, etc.
"All our faculty members must have 10 years of experience in the film industry, including 18 Oscar winners; our university also cooperates with big companies such as Disney, Sony, Pixar, Facebook, Microsoft, etc. Students will go to work there after they graduate."
Gandhi noted that the Academy of Art University had already had a program for exchanging a large number of teachers and students with Chinese universities, providing more exchange opportunities for film talents in China and the United States.