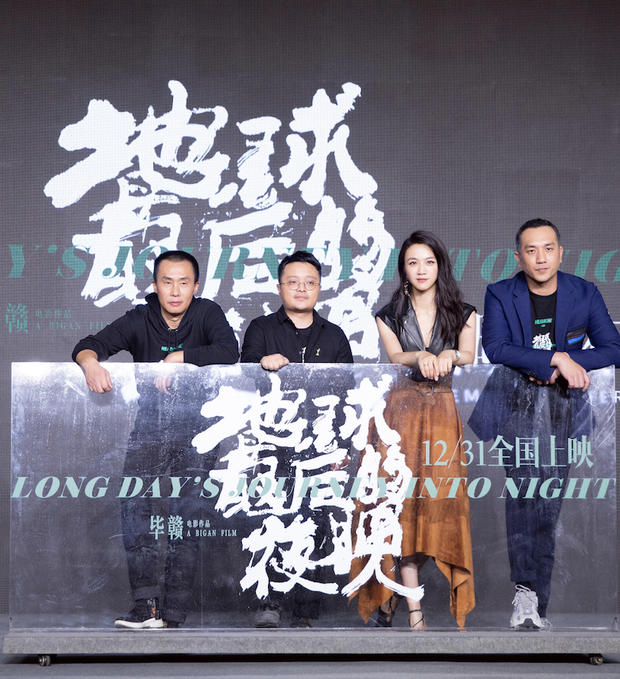 The critically acclaimed art-house film "Long Day's Journey into Night" boasted record-breaking presales in China due to smart marketing strategies, but industry observers warn of the possibility of backlash.
To date, the film has sold more than 100 million yuan (US$14.52 million) in presale tickets, six days before it will hit theaters on Dec. 31, the last day of 2018. Earnings have dramatically exceeded box office presales for previous blockbusters, such as "Avengers: Infinity War," "The Mermaid" and "Detective Chinatown 2."
If the trend continues, the first day gross for "Long Day's Journey into Night" could hit the 400 million yuan (US$58 million) mark, a rare milestone for a film belonging to a genre that normally struggles to survive in the Chinese film market.
The Chinese title of the film, which literally translates as "Last Night on the Earth," is arguably more striking than its English version. In addition, promoters formed a brilliant marketing strategy enlisting cinema managers to organize New Year's events that showcase the film.
"This is the last film of 2018," states a notification jointly issued on Dec. 7 by Zhejiang Huace Film & TV and Beijing Hero Film Co., Ltd, the two producers of the film. The statement continues, "All theaters may utilize this film to organize cross-year activities. For example, the film can start screening at 9:50 p.m. on Dec. 31 and end at midnight on Jan. 1, 2019. Audience members can bring their significant others to share in the ceremonial night and kiss at that moment as they cross into the new year."
Theaters across China seemed to agree on the sentiment and the strategy, as the single-day presale gross for Dec. 31 keeps climbing to phenomenal heights. However, presales for its second day, Jan. 1, dive steeply to 253,800 yuan (US$36,860) so far, which could reflect a more realistic level for an art-house film.
The latest notorious case of a similar phenomenon was "iPartment," a big screen feature based on the massively popular Chinese sitcom of the same title. The film hit Chinese theaters in August of this year with presales of 168 million yuan (US$24.39 million), which rose to 303 million yuan (US$44 million) in total sales at the close of its opening day, largely thanks to droves of nostalgic fans. However, following its debut, the film received mostly negative reviews and strong backlash, and it quickly fell from the top of the box office charts, grossing only 555 million yuan (US$80.59 million) in its entire run in theaters.
Box office analysts warn that "Long Day's Journey into Night" could face a similar backlash, as most Chinese moviegoers want brainless popcorn blockbusters during the holiday season rather than experimental art-house films.
"A warning to single men and women: please don't go to 'Long Day's Journey into Night,' because when everyone has someone to kiss at the end of the film, you can only hold yourselves," one internet user wrote on Sina Weibo.
"If you are a man taking your sweetheart to the film, she may break up with you afterwards because the film is not that much about love and romance," warned another internet user who had seen an advanced screening at the film's Beijing premiere on Dec. 24, Christmas Eve day, a date carefully chosen by the promoters.
Nevertheless, "Long Day's Journey into Night" shows signs that it may end up better off than "iPartment," as it has already received praise from prominent directors like Chen Kaige and Ang Lee, as well as many film critics, after screenings at several film festivals, including Cannes and the Taipei Golden Horse Film Festival and Awards.
The latest effort of 29-year-old director Bi Gan, starring Tang Wei, Huang Jue, Sylvia Chang and Li Hongqi is a story about memory and love, with a magical realist portrayal. According to the synopsis, the film follows a man who has returned to his hometown in Guizhou 12 years after his good friend was murdered, to begin the search for a woman who could be the lover of the murderer at large.
As one of its highlights, the film contains a nearly hour-long, nearly surreal long take entirely in 3D, which has stunned audiences at film festivals. Bi is not new to employing such innovative methods in films; his directorial debut "Kaili Blues" also made use of an artistically ambitious 45-minute long take in the middle. Following critical success, that film picked up multiple awards, including Best Emerging Director and Special Mention for First Feature at the Locarno International Film Festival, as well as Best New Director at the 52nd Golden Horse Awards in 2015.
As for "Long Day's Journey into Night," Bi seems unmoved by its extraordinary box office success. "Presales and box office projections are not my profession. I don't understand those. I am just a man engaged in film arts," he said. "The presale situation is just interesting to me. I don't have a bad opinion or any other thoughts. It is like a moment when aliens meet people on the Earth. It is not dangerous. It is a moment for everyone. I don't know if people will forget or forever remember the moment, but that is why it is very interesting," he remarked at the film's premiere.