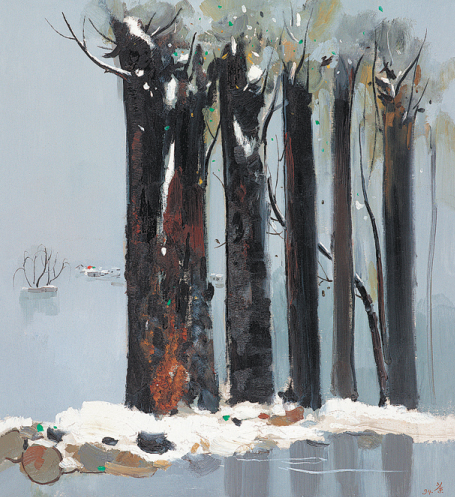 New exhibition compiles the work of artists who were at the forefront of the country's creative renaissance, Lin Qi reports.
In the first half of the 20th century, China saw a rise in the number of people studying abroad. Hundreds of young people embarked on ships, largely heading for Europe, Japan and North America. They hoped that their studies would help pull their homeland out of the abyss of poverty and chaos.
Some boarded a liner that cruised regularly between China and France. They sailed for a month putting up with all the discomforts of sea travel and finally, they arrived in Paris, the world art capital.
The years between 1911 and 1949 saw these talented Chinese, arriving in separate groups, and then becoming well-trained painters, lithographers and sculptors. Among them are Wu Fading, the first to study in France on a government scholarship, according to official documents, who first learned law but then transferred to oil painting; Pang Xunqin, a medical dropout from Shanghai's Aurora University; Pan Yuliang, who was freed from a brothel and studied under her husband's sponsor; and Zao Wou-ki, who left his teaching position and traveled with his first wife and artist Xie Jinglan.
Such artists, roughly 100 in number, contributed significantly to ushering Chinese art, deeply ingrained with outdated rules, into a modern age of greater vibrancy. Until now, no exhibition has given a comprehensive presentation of this collective, but the Central Academy of Fine Arts in Beijing, where many of the artists once taught, is staging a first-ever group show, Pioneering, at the school's art museum. The exhibition is set to run through March 3.