It's been 10 years since legendary film director James Cameron's last blockbuster, "Avatar," became the highest grossing movie of all time worldwide. Now, audiences can enjoy "Alita: Battle Angel" and then "Avatar" sequels in the coming years.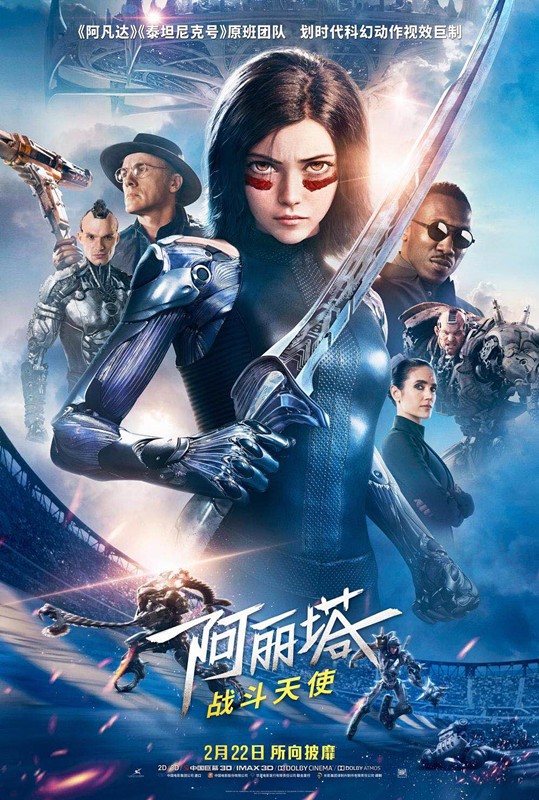 Cameron, director Robert Rodriguez, producer Jon Landau, actress Rosa Salazar, actor Christoph Waltz and original manga creator Yukito Kishiro attended the Chinese premiere of "Alita: Battle Angel" in Beijing on Monday, also attended by Chinese celebrities including director Zhang Yimou and actress Li Bingbing.
The cyberpunk action film epic focuses on the cyborg Alita (Rosa Salazar) who tries to invoke past memories and her real mission, along with new friends, on the treacherous streets of Iron City.
The film will be released in China on Feb. 22 as the first Hollywood epic after the Spring Festival holiday season.
"I love the Chinese audience because they love my movies," Cameron said at the premiere, "I feel like, of every place in the world, this is the place that communicates best with the filmmaker. And it's also wonderful that the audience here is growing so rapidly. This is very quickly going to be the biggest film market in the world."
Cameron's previous films "Titanic" and "Avatar" were huge successes in China, with two both claiming the crown as the highest-grossing film ever in China in 1998 and 2010 respectively. "Avatar" grossed 1.34 billion yuan (US$204 million) and became the first movie to cross the billion-yuan-mark. Its world earnings reach a staggering US$2.78 billion, the highest gross in world cinema history that remains unchallenged.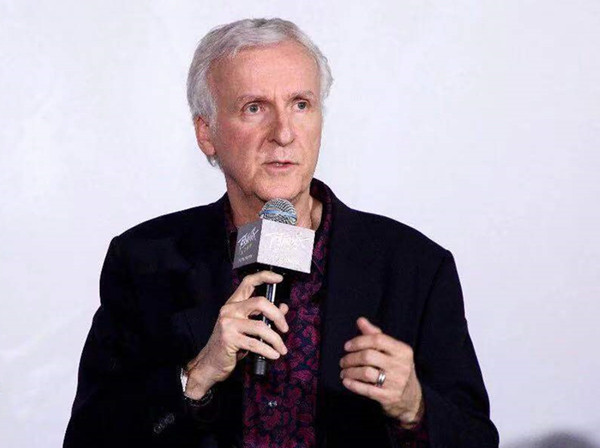 The 3D re-release of "Titanic" was also a triumph in 2012, with a stunning 946 million yuan (US$145 million) gross at the Chinese box office, again a record among film markets around the world.
Comparing them with "Alita," Cameron pointed out they're very different, and yet also similar. "'Titanic' was a romantic story of the two young lovers, Jack and Rose, and so is 'Alita.' As with 'Titanic,' it is a story where a woman discovers her power to be herself. There's a similar theme in 'Alita.' Also, as in 'Avatar,' we push the bar to a higher level through the facial performance capture with CG (computer-generated) characters. And of course, the big challenge in 'Alita' was to take Rosa's amazing performance and to project it through the character via the CG process without any loss whatsoever because she's the vitality at the center of the film," he said.
Making "Alita: Battle Angel" has been a long-held dream for Cameron ever since he first saw the potential of the Japanese manga "Gunnm" by Yukito Kishiro to become a live-action version on the big screen. Upon the recommendation of filmmaker Guillermo del Toro, he bought the rights from the Japanese manga artist and spent nearly two decades preparing for the filming.
As Cameron became busy with "Avatar" and its sequel projects, he handed over "Alita" to Robert Rodriguez, along with his 186-page original script and more than 600 pages of guidance notes. However, he still served as producer and screen writer, and he made sure the self-proclaimed "Mariachi-style" neo-noir filmmaker Rodriguez ("Sin City") could accurately present his vision.
Rodriguez called his collaboration with Cameron "great," as the two had known each other for over 25 years. "I try to really take my cues from his movies. I really love his films. I think they break box office records for the reason that they connect with people because he grounds them in a reality you can buy. So, I took a step back from how I normally make my movies, which are more stylized, and really embraced more realism. It feels like a complete vision of the future yet can relate so well to audiences today."
The director believed it would resonate with the audiences in China, "It's a very empowering, universal story. This is a character that anyone can get behind, especially women. But all audiences are going to love this character because it's a very heartful movie with a lot of spectacles.
"We really wanted to really be inspired by the Asian style of storytelling and create something that could be embraced and celebrated by all audience with a real heroine that is just so inspiring, so new, so different, yet feels so human, almost more human than human."
Actress Rosa Salazar, who appears as the first humanoid in film history as a combination of CGI and real people, said she learned Chinese martial arts in preparing for the role and immersed herself in the role. Cameron assigned the "Alita" team to render the role of Alita completely in CGI based on Salazar's facial expressions and body movements.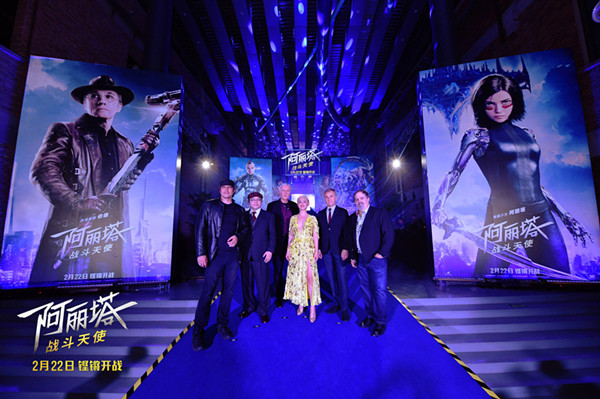 "I think we built upon the foundation we had on 'Avatar'." Cameron's longtime collaborator Jon Landau said of innovations and breakthroughs in the film, revealing that, with help from Weta Digital and more advanced performance capture technology the Cameron team has been developing, the film would be much improved in technological terms .

"What Jim wants to create with 'Avatar' is performance capture, taking away motion. Motion capture then didn't have the emotion behind it. So we fell down on that. On the first 'Avatar' we worked with a single standard definition camera, this time, we worked with two high definition cameras on the head rig to capture Rosa's face and all the nuances of the performance. Because, again, we're putting up a huge spectacle, but movies come down to the close-up. And Rosa gave us this incredible performance that we wanted to represent in the camera."
Cameron joked his next challenge is to get the "Avatar" sequels started before he dies. He indeed announced his intention to film three sequels simultaneously in 2013, but the projects got delayed several times. Eventually, it was announced in 2017 that the sequels to Avatar had started production with the plan for the first to be released in December 2020.
"These are very big films, as you can imagine. We're doing several of them at the same time. 'Avatar 2', 'Avatar 3' and part of 'Avatar 4', it's just a tremendous amount of work and tremendous amount of detail," he said. The latest update is they have completed the performance capture on "Avatar 2", "Avatar 3" and on the first part of "Avatar 4".
"Because we have a number of young actors and they'll come back and finish 'Avatar 4' when they're older," Cameron said, adding: "It took us about 16 months and there was underwater work in a special performance capture tank we have to create from scratch. Nobody knows how to do that. So, we're done with that and we still have to shoot the live action portion of both of those films, which will start in New Zealand in May and the work to bring the world to life is ongoing. Many of the scenes are cut. "
"Avatar 2" and "Avatar 3" are scheduled to hit screens worldwide in 2020 and 2021.
Landau added, "I think that one of the things Jim talked about is the water, I think that one of the decisions that Jim made is to use the moon of Pandora as a metaphor for the world in which we live, so that science fiction can feel that we reflect on ourselves.
"We're going to stay on Pandora and see the wonders that it holds. We will go to the oceans, will meet different cultures. We only have one culture in the first movie. This is about understanding diversity, understanding our planet, and reflecting upon what we have here on the Earth."
Cameron said, "You know the other challenge that I carry at the same time is working on sustainability issues — the food choices people make and how they affect the environment. I have a new company that makes a protein from plants as a global food commodity and so on. So, I have this whole other life basically, kind of as a farmer, as a food guy. Believe it or not. Most people know about this, but the whole world is not just movies. We also have to survive long enough to continue to enjoy our movies. "