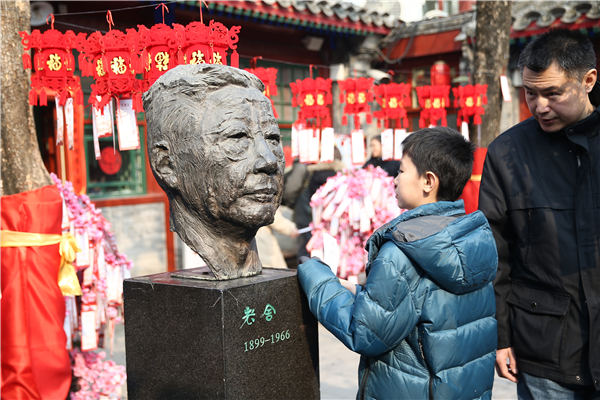 Range of activities mark 120th anniversary of Lao She's birth.
"I am a nobody in literary and art circles. For decades, I have been conscientiously writing at my table. I am proud of my diligence. ... I hope that the day I am buried, someone will put up an engraved monument, saying, 'The nobody of literary and art circles, who has fulfilled his duty, sleeps here.'"
These words, from the writer Lao She, hang on a gray wall outside the Lao She Memorial Hall, a tranquil courtyard in Beijing.
Lao She lived there with his wife, the artist Hu Jieqing, and their four children from 1950 to 1966. A black-and-white photo of the smiling author hangs next to his words.
With this year marking the 120th anniversary of Lao She's birth, a number of activities are being held.
Born as Shu Qingchun to a Manchu family in Beijing in 1899, Lao She is best known for his vivid descriptions of grassroots lives that reflect social reality and for his precise depictions of local culture in Beijing, especially his unique humor and use of the city's dialect.
His novels, including Rickshaw Boy and Four Generations Under One Roof, and his plays, such as Long Xu Gou (Dragon Beard Ditch) and Teahouse, have earned him a stellar reputation as a linguistic and literary master worldwide.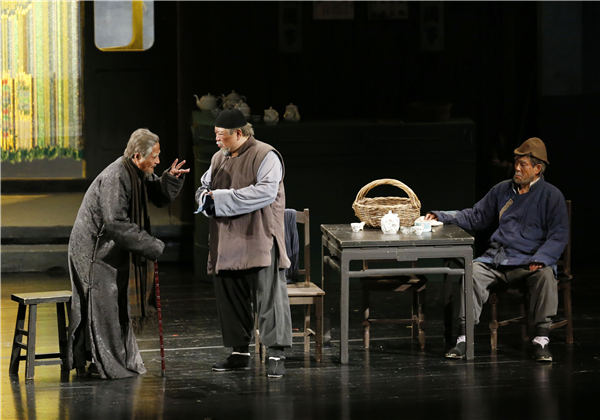 Lao She committed suicide at Taiping Lake in Beijing in 1966 during the "cultural revolution" (1966-76), leaving a wealth of works that have inspired many generations. For decades, his works have been adapted into plays, movies and TV dramas.
The courtyard, which Lao She bought in 1950, is well-preserved in the traditional Beijing style. It occupies 400 square meters, boasts 19 houses and lies tucked away in Fengfu hutong (alleyway) near bustling Wangfujing, a popular shopping street in downtown Beijing. It opened to the public in 1998 as the Lao She Memorial Hall.
To mark Lao She's birth anniversary, the hall is staging an exhibition at the Capital Museum. It opened on Jan 13, runs to March 20 and includes some 50 paintings depicting Lao She and his works.
He Ting, from the memorial hall, said, "It has become a popular tourist site, as the writer is one of the symbols of the city", adding that a large number of valuable books, manuscripts, Lao She's possessions and photos are displayed at the venue, providing snapshots of his life.