Seven jurors led by "The Lion King" director Rob Minkoff met the press on Thursday in Beijing to discuss what they anticipate at the upcoming 9th Beijing International Film Festival.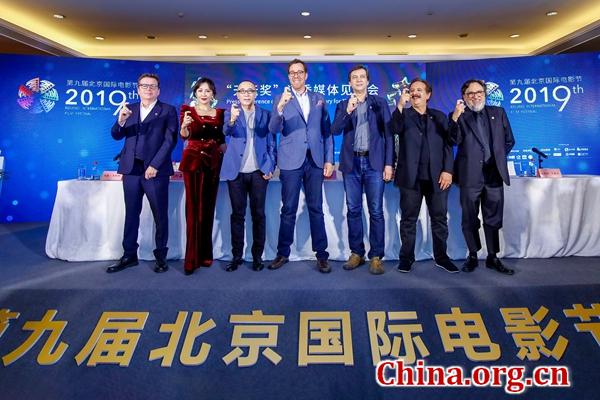 The panel consists of Minkoff from the United States, Chilean director Silvio Gayoqi, Chinese mainland director Cao Baoping, Russian director Sergei De Wattsvoy, Hong Kong-based Chinese actress Carina Lau, Iranian director Majid Makidi and British director Simon West. They will select ten winners for the Tiantan Awards, the competition section of the film festival, from 15 outstanding films. This final shortlist was narrowed down from 775 film submissions of diverse categories and styles from 85 countries and regions.
Jury president Minkoff said Beijing is not only a metropolis, but also a core city of the Chinese film industry. Nearly a decade ago, the purpose of the Beijing International Film Festival was to bring films from various countries to the Chinese and for world audiences to help promote the development of the Chinese film industry. He said there are not only films from different cultures and with different stories, but also jurors from all over the world, which attest to the festival's ability to bring together a truly international community.
Russian director Sergei De Wattsvoy noticed that there were many co-productions in the main competition section. He acknowledged that film financing is not an easy task, especially for independent films, whether it be in China or Russia. The director said he believes the future trend will increasingly be one of global co-productions.
Carina Lau stands out as the only female juror at the festival. Lau said that she is honored to participate in the Beijing International Film Festival and hoped that more female jurors would appear in the film festival in the near future. "Gender perspectives are different when watching movies. Women are more sensitive and emotional, men are more rational, I think we should get a balance," she said.
Chinese director Cao Baoping added, "the most important criterion for the film festival jury is fairness, so any film will be treated equally. Our job is to discover the really good films."
The shortlist of 15 titles include: Bille August's "A Fortunate Man" (Denmark), Junji Sakamoto's "Another World" (Japan), Peter Hedges' "Ben is Back" (USA), Jayaraj's "Fear" (India), Tiina Lymi's "Happier Times, Grump" (Finland), Seyed Hadi Mohaghegh's "Here" (Iran), László Nemes' "Sunset" (Hungary/France), Ali Jaberansari's "Tehran: City of Love" (UK/Iran/Netherlands), Xirzat Yahup's "The Composer" (China/Kazakhstan), Marcus H. Rosen Mueller's "The Keeper" (Germany/UK), Eliran Malka's "The Unorthodox" (Israel), Steve Krikris' "The Waiter" (Greece), and Nuri Bilge Ceylan's "The Wild Pear Tree" (Turkey/France/Germany/Bulgaria/Macedonia/Bosnia/Sweden), as well as two Chinese productions, Chen Jianbin's "The Eleventh Chapter" and Frant Gwo's sci-fi blockbuster "The Wandering Earth."
The films will vie for 10 award categories: Best Feature Film, Best Director, Best Actor, Best Actress, Best Supporting Actor, Best Supporting Actress, Best Screenplay, Best Cinematography, Best Music and Best Visual Effects. The jury will assess these films in the middle of April.
The organizers also held another press conference on Thursday to detail the opening and closing ceremonies, which will again be star-studded. It will feature renowned actors such as French actress Sophie Marceau, American actor Christopher Walken, Japanese actress Komaki Kurihara, Chinese actor Hu Ge and Chinese actress Zhou Dongyu.
The film festival, which will officially open on Saturday, will hold many events during its 7-day run. This includes "Forward Future" to discover future film trends and new filmmakers from around the globe and "Documentary Sector" to explore the documentary industry. There will also be many industry forums, premieres of new films, film concerts, film carnival and screenings of classic and rare films in the "Film in Panorama" section at the upcoming film festival.