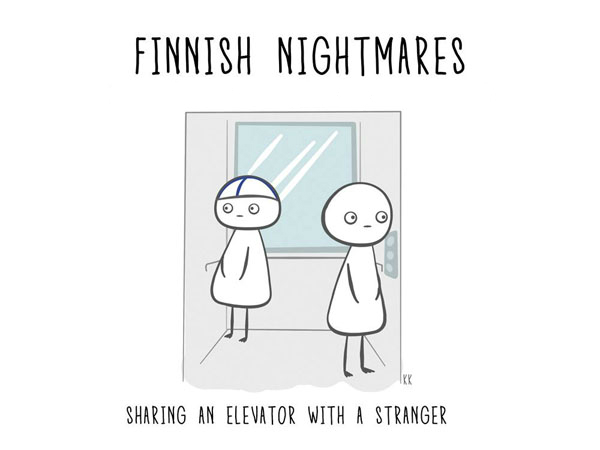 Liu Yuxin, a 20-year-old student from Tianjin Foreign Studies University, said she identifies with Matti as well. "I think I'm the kind of person with 'social phobia'. I feel what Matti feels, especially in the part which reads: 'you hear your neighbor opening the door so you wait until she leaves to avoid meeting her.'"
The comic series was first published on Facebook and the Facebook page " Finnish Nightmares" has so far garnered more than 186,000 likes from people worldwide.
Talking about its popularity, Korhonen said the comic was an accidental success. She started with a very simple motivation: to introduce Finnish social culture to her foreign friends.
"It started in 2015. I didn't expect its influence to become this big," Korhonen said in an interview with China Daily in Beijing on Sunday. "Small talk and kissing cheeks may be part of everyday greetings for people in many countries. But for Finns, it brings us anxiety."
"Young Finns have learned to be more open. But people in the older generations are a bit more conservative with strangers," Korhonen said.