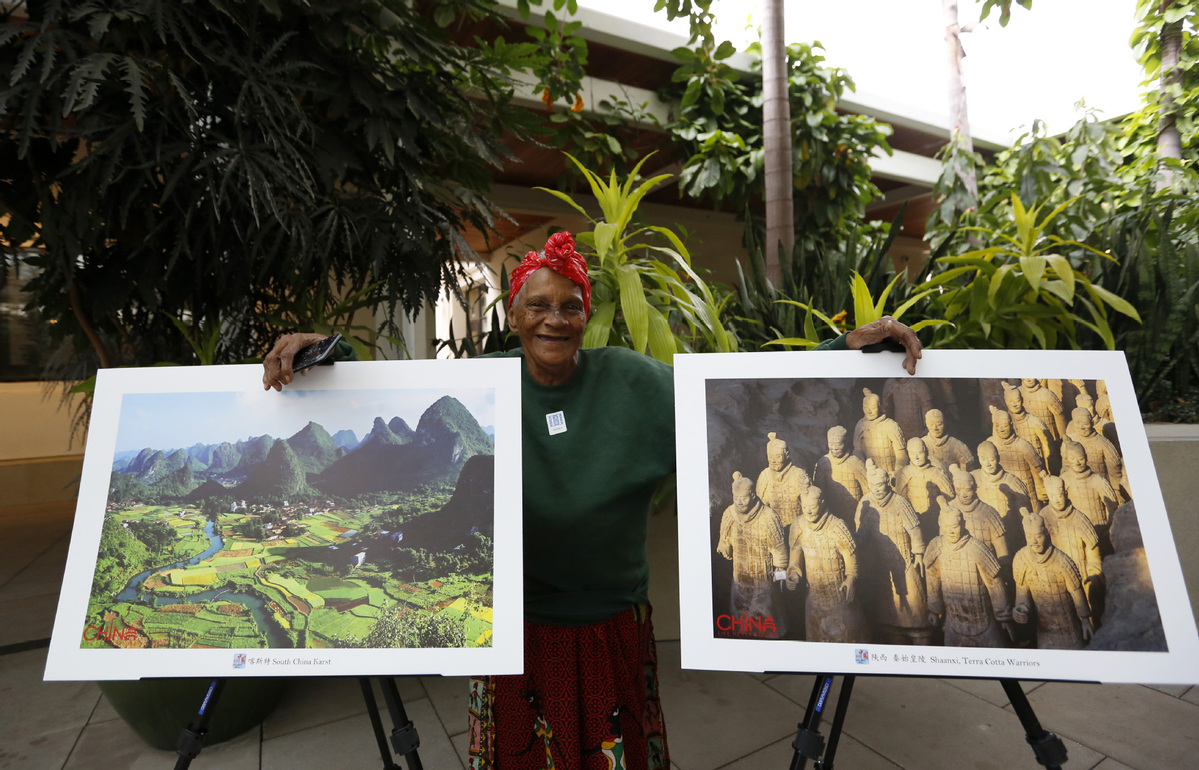 Vibrant birdsong trilled overhead and a fresh spring rain moistened the nodding grasses and fluted lilies lining the walks of the historic Huntington Library, Art Collections, and Botanical Gardens in Los Angeles County, as contingents of tour agents made their way through the mist toward a special photo exhibition sponsored by the China National Tourist Office, Los Angeles.

The three-day China World Heritage Photo Exhibition, which kicked off on Wednesday, was the last in a weeklong series of special, promotional events as part of the China Tourism and Culture Week in Los Angeles designed to bring a taste of Chinese culture to American audiences.
Wu Ning, director of the China National Tourist Office, Los Angeles told Xinhua, "Our office is focusing on promoting China to the American people. Our new logo is: 'China: Beyond Your Imagination and we have so many beautiful things to share."
China ranks high on the list for global tourist destinations, boasting more than 30.54 million foreign tourists in 2018. Tourism contributed about 9.94 trillion Yuan RMB (about 1.44 trillion U.S. dollars) to China's economy, over 11.04 percent of the nation's GDP in 2018, according to the data released by China's Ministry of Culture and Tourism.
Overall, around 3 million Chinese tourists visit the United States annually in recent years.
Kathryn Smits, vice president of international tourism of the Los Angeles Tourism & Convention Board told Xinhua, "LA is proud to be the city to welcome over 1 million Chinese visitors."
Los Angeles received a record 1.2 million visitors from China in 2018, according to Los Angeles Tourism & Convention Board.
Wu is working hard to expand her office's ability to reach the American public too, through the judicious use of media spots in the newspaper and on TV, alliances and co-sponsorships with local companies, museums and heavy-hitters like the NBA, and other innovative ideas.
In this instance, she arranged for dozens of photographs of China to ring the walls in the Huntington's domed, open-air pavilion, to showcase a variety of stunning color images featuring many of the most beautiful and culturally significant attractions that China has to offer.
"I think this photo exhibit is a fantastic way to showcase China, as is Chinese food. That really resonates with Americans," said Smits.
The photos depict China's 53 gorgeous UNESCO World Heritage sites. China has one of the most complete sets of heritage sites over a broad range and boasts the largest number of World Cultural and Natural Heritage Sites. These designated sites constitute some of the most popular and compelling tourist attractions amongst China's rich natural and cultural resources.
Heritage sites range from the well-known cultural sites, like the epic Great Wall of China which undulates like a sinuous dragon from mountain top to mountain top, the Mausoleum of the First Qin Emperor in Xi'an with its uncanny army of terracotta warriors, the conical pagoda of the Temple of Heaven, the elegant, classical gardens of Suzhou, and the ethereal Potala Palace in Tibet, to the many unspoiled natural wonders of China, like cloud-shrouded Mount Huangshan, the pristine waters of the Jiuzhaigou Valley, the misty peaks of Lushan National Park, the giant pandas in their Sichuan Sanctuaries, and many, many more.
American members of the US Tour Operators Association (USTOA) represented at the event have developed thriving businesses bringing adventurous Americans on tours to China. Many tour options are available, ranging in length from 2-day private casino tours to Macau to 30-day deluxe tours all around China.
Robert D. Zavala, owner of Freedom Vacation, told Xinhua, "We just got back from taking a group to the Great Wall and it was like stepping onto the moon. It was one of those unique experiences that are life-altering for many people."
Tourists flock to China's ancient cities and sites rich in cultural history, like Xi'an and Beijing, or modern shopping and business destinations, like Shanghai and Hong Kong, and natural scenic sights like the Yangtze River, Guilin, or Zhangjiajie, and to see engineering marvels like the Three Gorges Dam.
"We have tours to China's glamorous cities like Beijing, Shanghai and Hong Kong; we've got tours built around cultural heritages sites, Yangtze River tour, food tours, shopping tours... There is something for everyone in China," Nancy Lemus of Super Value Tours told Xinhua.
For Wu, these tour operators are spot on: "For China and U.S. peoples to truly understand each other, it is absolutely essential that we visit each other's country in person. Then we can truly appreciate and love each other's culture."