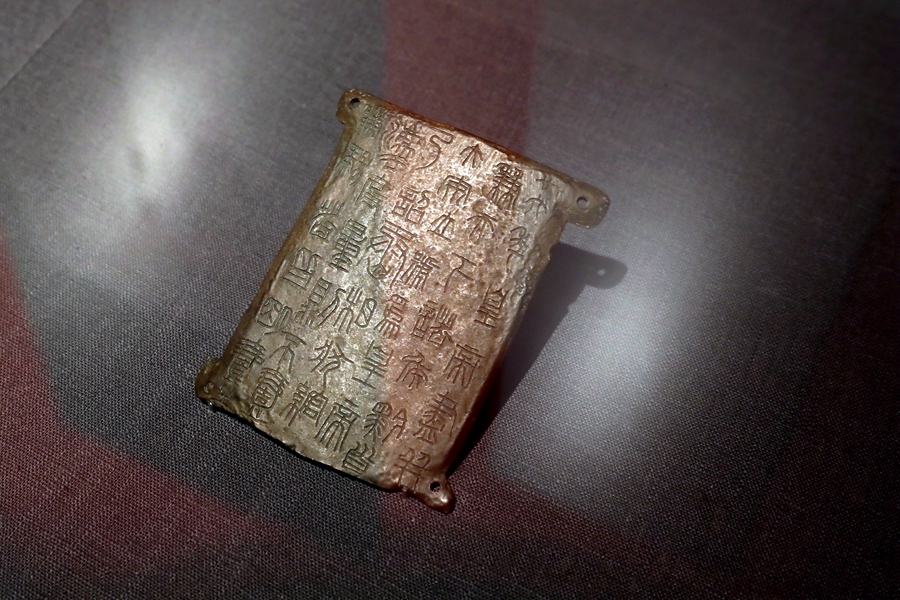 It is not only because the Liye slips were 10 times the total number of Qin slips discovered in other parts of China before, but also because the Liye slips bear more than 200,000 characters, documenting the political, economic and social aspects of Liye life, a riverside military fortress during Qin rule. The relics are helping historians to understand more about the dynasty's bureaucracy and economic systems, as written records about Qin were previously unclear.
After years of decoding and interpreting the information on the slips, researchers from Hunan are now sharing some of their findings about the Qin era with a display of some 175 slips at A Tale of A Small Town, an exhibition at the National Museum of China in Beijing that runs through Sept 6.
These objects are from the collections of the Hunan Provincial Institute of Archaeology in Changsha and the Liye Qin Slips Museum near the relic site. Bamboo and wooden slips were the primary media for texts before paper was invented by Cai Lun, an official of the Eastern Han Dynasty (25-220).
Pieces from the collection of Liye slips, which have been cleaned, date from 222 BC to 208 BC, unfolding a panoramic view of administrative management at the prefecture level then, as well as epitomizing the area's social life. It is through these tiny slips and glimpses of a small town's past that people today are able to get a bigger picture of the rise and fall of Qin rulers.
Archaeologists and historians view the significance of the Liye slips rivaling that of the discovery of Qin's Terracotta Warriors in Xi'an, Shaanxi province, in 1974.