The 18th Chinese Bridge concluded on Aug. 22, and Egypt's Passant Sayed Khalil Ahmed Ali was named champion of the annual worldwide Chinese language proficiency competition.
"I'm very thankful for my parents for always supporting me, and I'm very thankful for my teacher," said Ali, who goes by her Chinese name Shi Yu, speaking in perfect Chinese as she clasped her trophy. "Also, I want to thank every Chinese Bridge contestant I've met."
The 22-year-old student from Cairo University was one of five finalists competing for the title of "Star of Chinese Language." After her victory, Ali said she would shortly begin graduate studies at Beijing Normal University, and eventually plans to return to Cairo University to teach Chinese.
Ali's talents in the Chinese language was clear throughout the final rounds that tested not only the contestants' language skills, but also their knowledge about Chinese history and culture. The other finalists were Ana Scobioala from Moldova, Joshua Jason Robinson from the U.S., Maximillian Millard Noah Silk from Australia, and Kaing Thinn from Myanmar.
Together, the five contestants put on a show that wowed judges and audiences in a recording studio at the Hunan Mass Media College in Changsha, Hunan province. The final round, along with previous rounds consisting of Chinese Bridge contestants from 122 countries, is being produced as a talent show opening next Monday on China's popular streaming platform, Mango TV.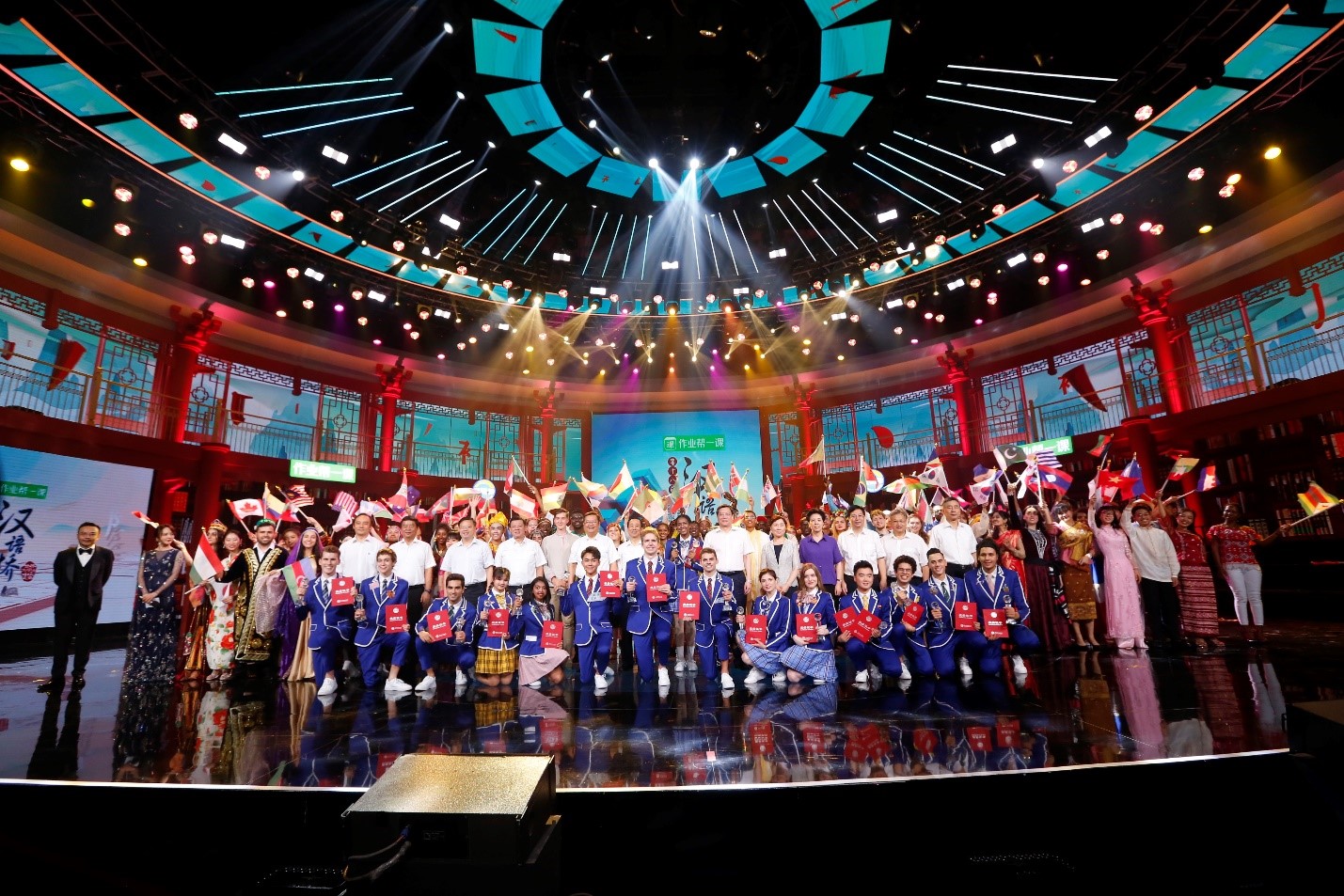 The show documents the contestants' travels in China after winning preliminary stages of the competition in their own countries. On invitation from the Confucius Institute Headquarters and Hunan University, contestants visited Shanghai, Shandong, Tangshan, and other places, to enhance their language skills and experience the local culture.
Their journey led them to three elimination rounds of on-stage competition. It wrapped up in a grand gala in Changsha with dances and songs by Chinese and foreign performers, such as the Super-Vocal Team Silk Road Ensemble from China and the Munich Children's Choir from Germany.
A surprise appearance by internet sensation Thuch Salik, the boy captured on a viral video of him selling souvenirs in 15 languages, briefly stole the show. The studio audience, which included officials from Hunan province and the Confucius Institute Headquarters, were captivated by Salik's story of his life in Cambodia before moving to China to live and study.
The night culminated with a blitzing quiz showdown between the last two contestants, Ali and Myanmar's Thinn, who goes by a Chinese name of Jiang Tiangai. The intense round ended with Ali edging Thinn by a single point.
Thinn said he was grateful to be able to participate in the competition in China, which allowed him to make new friends from all over the world. He added that he was glad to receive a one-year Confucius Institute scholarship to study in China, which was awarded to all five finalists.
Robinson, whose Chinese name is Luo Mingyan, thanked his teachers and the Chinese Bridge production team. The American finalist especially noted his impressions of the night's second competition category, a theatrical sketch with the contestants attired in Tang dynasty costumes and acting as friends of the famed Chinese poet Li Bai from that period.
"Without their help, we would never have been able to put on such an exciting performance," he said.
The contestants' performances were scored by a panel of judges that included CCTV news anchor Hai Xia, Peking University professor Zhao Dongmei, and Confucius Institute director Yi Fucheng at the Russian State University for the Humanities.
Zhao, who also served as judge to previous rounds of this year's competition, said she saw remarkable improvement in winner Ali's language abilities. She added that although Chinese Bridge is a contest, it more importantly serves as a showcase of the openness and inclusiveness of the Chinese culture.
"In today's social climate, Chinese Bridge and its spirit of openness and inclusiveness can be quite beneficial toward building friendship between people in the world," Zhao said.
The Chinese Bridge language proficiency competition for foreign college students launched in 2002, sponsored by the Confucius Institute Headquarters. Production of the final rounds in China is conducted by Hunan Satellite TV, with a team led by director Yang Ziyang.
According to the director, this year's competition was designed around the theme of "One World, One Family." As a highlight, the first category featured former Chinese Bridge winner Jamie Bilbow and five of his friends who are foreigners living in China.
Yang said the design of this segment was inspired by the cameraderie he had witnessed between participants of the competition. As the head of Chinese Bridge's show production since 2008, Yang said he noticed many previous competitors staying in touch with one another, often through the popular WeChat app in recent years. Yang picked Bilbow (Chinese name Da Mi), to co-host the segment and present China through his WeChat Moments.
Bilbow's friends are spread throughout the country and from all walks of life: A shopkeeper in Beijing, an engineer in Suzhou, and even a man living in a rural village with his Miao ethnic group in-laws. After a brief video, each presented one of this year's Chinese Bridge finalists with questions from their own distinctive backgrounds.
"Foreigners living in China, like Da Mi's friends, come from all over the world, just like our present contestants," Yang said. "We can learn about modern China through their eyes, and questions from them could feel more engaging for the contestants."
At the same time, contestants were not the only ones benefiting from Chinese Bridge over the years. Yang said that just as he noticed foreign participants becoming more and more knowledgeable about China, people around him have also learned much about the diverse cultures from different countries around the world.
"The bridge in 'Chinese Bridge' goes both ways," Yang said. "It serves to connect China and the world. We can see them, and they can see us."