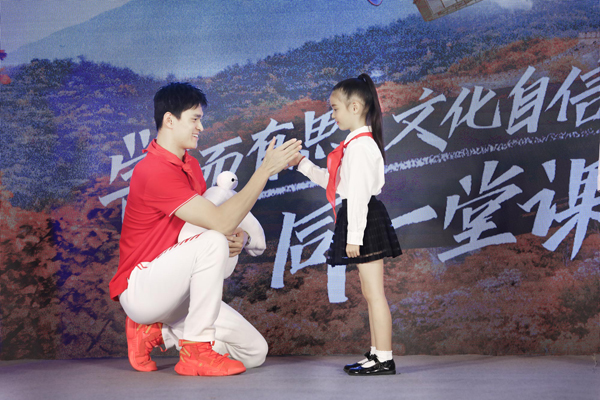 Stars go back to school to try their hand at teaching, adapting their unique skill sets to connect with the children, Xing Wen reports.
On a grassy hillside where, here and there, a flock of sheep and cows are grazing, 30 or so primary school students gather in a circle around actor Wang Luoyong, following his directions to mimic the traits of an eagle, a rooster, a wolf and other animals.
It's not an acting workshop, but a special Chinese class in which Wang teaches attendees of a remote primary school in Hezhang county, Southwest China's Guizhou province, how to understand the animal-related tales from the legendary Qing Dynasty (1644-1911) writer, Pu Songling.
"Students can get closer to animals and better comprehend the texts by doing role-play games outdoors, which will also kindle their imagination and make learning a multisensory experience," says Wang.
"The Chinese classes delivered by Mr Wang are quite different from those I've taken before," says Yang Long, one of the students. "His expressive body language and vivid imitation of animals has sparked my interest in the texts."
Last year, Wang took part in the first season of the reality TV show A-Class, which invited 21 star guests-including actor Pu Cunxin, actress Xu Fan, novelist Mai Jia, Peking Opera artist Wang Peiyu and entrepreneur Feng Lun-to travel to different parts of China and play the role of a teacher of Chinese for three days at a local primary school.