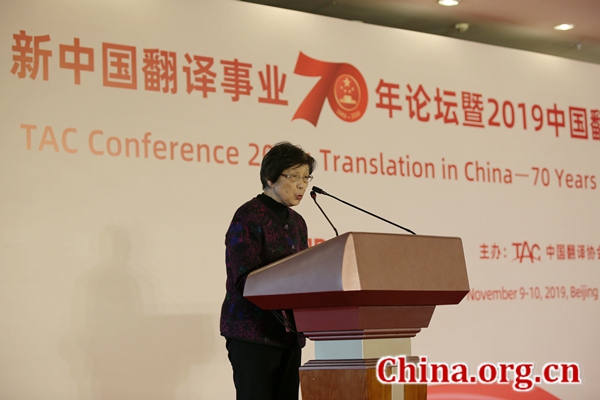 A handbook on translation of Chinese political terms was released at the annual conference of the Translators Association of China (TAC) on Nov. 9, 2019, in Beijing. The handbook features translations from Chinese to a range of different languages including English, French, Japanese, Russian, Korean, Spanish, Portuguese, Arabic and German.
The handbook was launched at a forum of the conference to mark the 70th anniversary of China's translation efforts represented by the development of the TAC.
With its substantive, concise and accurate content, the handbook serves as a reference highlighting the rules, models, paradigms and styles for the translation of Chinese political terms in the modern era, according to officials of the TAC.
According to the officials, the handbook is expected to play a key and decisive role in formulating and unifying the standards for translation on political speeches, dialogues and writings in China. The guide was jointly published by three subsidiaries of the China International Publishing Group (CIPG), including the Foreign Languages Press, the Beijing Review and the Academy of Contemporary China and World Studies.
Shi Yanhua, advisor to the TAC who released the handbook at the forum's opening ceremony, said that she hopes it will be a useful reference for those who engage in the international popularization of China and translation of Chinese content in various fields, while also enhancing the translation quality of Chinese political terms.
Many organizations, including government organs, public institutions and foreign media, have shown their interest in the handbook.