A forum on the global spread of traditional Chinese operas was held in Beijing on Wednesday, mainly focusing on Peking Opera's communications within East Asia.
The "Forum on the Overseas Spread of Chinese Operas in the Global Perspective - Operas' Dissemination in East Asia" was held at Beijing Foreign Studies University, against a background of a perceived weakness in the overseas dissemination of knowledge and acceptance of traditional Chinese culture and the cross-cultural dissemination of Chinese opera.
The meeting sought to gain a better understanding of the history of exchanges between Chinese operas and those of East Asian countries, provide ideas for expanded comparative studies on the spread of Chinese and foreign operas, and provide a reference for how to promote Chinese traditional culture elsewhere.
Professor Sun Ping, a female Peking Opera master and dean and doctoral tutor of the Art Research School of the university, said that, in the 1920s, the Fu Lian Cheng Troupe had visited Japan, and it had communications and exchanges with the famous Kabuki artist Ichikawa Sadanji II on the cultural dissemination of Peking Opera.
This had made an important contribution to the cultural exchanges between the two countries, as had the work of others of previous generations dedicated to the overseas dissemination of opera.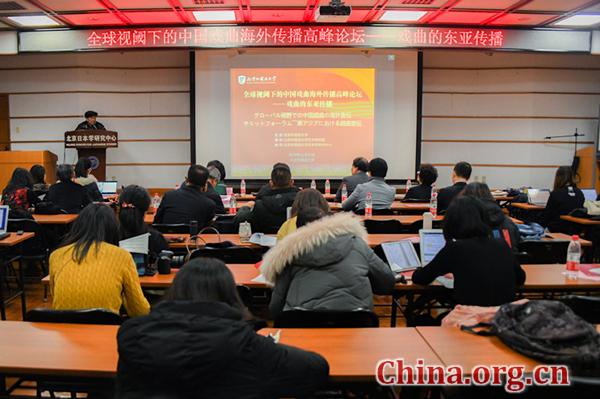 Sun hoped the forum could "stand on the shoulders of giants", and prompt closer cooperation between Chinese and Japanese opera artists, especially more frequent and deeper exchanges between Peking Opera artists and Japanese Kyogen artists.
Later in the academic forum, a number of experts and scholars at home and abroad jointly reviewed and studied the important historical value of opera dissemination in East Asia and continued overseas expansion of Chinese opera in the contemporary era.
The forum was sponsored by Beijing Foreign Studies University, and organized by the Art Research School of the university, and co-organized by Beijing Center for Japanese Studies of the university. The university has an ambition to promote Chinese operas, traditional culture, and Chinese spirit in overseas by its platforms and resources.
Guo Lianyou, director of Beijing Center for Japanese Studies, Zhou Huabin, senior professor and doctoral tutor of Communication University of China, Michiko Fujioka, honorary professor of Kyoto Notre Dame University, Seto Hiroshi, professor from Setsunan University and visiting scholar of the Central Academy of Drama in Beijing, and many other more Chinese and Japanese researchers, experts and scholars attended the forum.