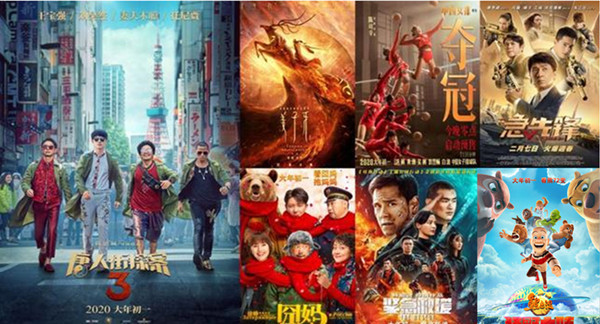 Dramas and uncertainties loom on Chinese film market as it anticipates a record-breaking Spring Festival holiday season.
To curb unhealthy competition, China's film authorities only allowed films that had set a release date on China's Lunar New Year's Day (Jan. 25) to start presales in a one-week window before hitting theaters. It is very unusual move, as presales have normally opened more than a month earlier in past years.
The Spring Festival has grown into the most profitable film season of the year, with box office records being set every year, as Chinese people have started to recognize movies as a source of family entertainment during the week-long holiday. In 2019, new films grossed 5.9 billion yuan ($857 million) during the seven-day Spring Festival holiday, reaching a new peak for a seven-day run. This year's Spring Festival could exceed that.
This year, seven films will dominate. They are "Detective Chinatown 3," "Lost in Russia," "The Rescue," "Leap," "Vanguard," plus two animated features, "Legend of Deification" and "Boonie Bears: The Wild Life."
The presales of the films started at 00:00 a.m. on Jan. 18. According to Beacon, Alibaba Group's box office tracking and film marketing platform, as of Jan. 21 noon, the first day of Spring Festival saw presold tickets worth more than 312 million yuan for all the films to hit screens on that day.
The detective comedy "Detective Chinatown 3" is the most popular, earning 180 million yuan alone so far in the presale phase. The third installment of the smash hit franchise has already grossed more than 200 million yuan counting income from other days of the holiday, breaking another presale record for the fastest pace.
Chinese cinema managers should be more than happy to see the record-breaking presales. However, on Monday, many stocks of Chinese film companies shockingly plummeted on the Chinese stock market and the fall continued on Tuesday. Analysts believe the news of the spread of the novel coronavirus (2019-nCoV) causing many cases of pneumonia, could be behind the fall as medical experts have warned people against going out to crowded places, which naturally includes cinemas.
Anxious distributors unexpectedly announced on Monday that three films, "Lost in Russia," "Leap" and "Boonie Bears: The Wild Life," will enter the furious Spring Festival race earlier, hitting Chinese theaters on Jan. 24, the eve of Chinese Lunar New Year and a day earlier than the originally set release date.
This move immediately caused complaints, as many cinema staff have to work extra hours before they can go home for the traditional reunion dinner with family on the eve of China's Lunar New Year.
Xu Zheng, the director, producer and actor of "Lost in Russia," openly apologized to cinema staff nationwide for his decision to release the film early, and said he was willing to make it up for them.
Film industry observers said the bold move of early release is not just due to the novel virus situation, but also for other rival film studios having to fight for more screening potential, spaces and arrangements after they saw the presales of "Detective Chinatown 3" was overwhelming .
But the move also has risks. If a film's quality is not so good, it will soon lose out at the starting line in the internet era where information is shared so fast.
According to incomplete statistics and prediction by Beacon, there will be 7,000 new screens to accommodate films for this year's Spring Festival. Therefore, the show time arrangements will increase by 50,000 to 60,000 screenings compared with the last year's Spring Festival, and the first day gross of the holiday for all the films is expected to reach 700 million yuan, a new single day record.
However, not everyone will be able to share in the feast. The China Film Administration ordered checks and the subsequent retrieval of Chinese cinemas' unreported box office revenue in December last year. Until Jan. 17, there are still 471 cinemas that haven't got their tallies right and haven't submitted corrected numbers and relevant funds to China's film authorities.
Towards the end of the last year, China's film authorities did their 2019 tally and found discrepancies in the reporting of box office revenue after comparing their statistics with data from third-party ticketing platforms. This led them to conclude that cinemas were diverting or concealing box office revenue.
The punishment would be forbidding these 471 non-compliant cinemas to screen any Spring Festival films. Even if they correct their actions, they will be punished, being allowed to screen the two lesser-regarded films of "Vanguard" and "Boonie Bears: The Wild Life" during the first three days of the holiday, which are highly profitable, and only being able to screen the remaining blockbusters from the fourth day of the Spring Festival.