The 2020 Spring Festival Gala of China Media Group (CMG) gained a record number of viewers on Friday night, as the event marking Spring Festival was held in the Chinese capital Beijing.
The gala's live broadcast received 1.12 billion views on new media platforms, and 589 million views through television sets. Over 24.6 million views were made via overseas platforms including Youtube and Facebook.
More than 560 media outlets have either broadcast or reported on the gala.
A special tribute to those battling the coronavirus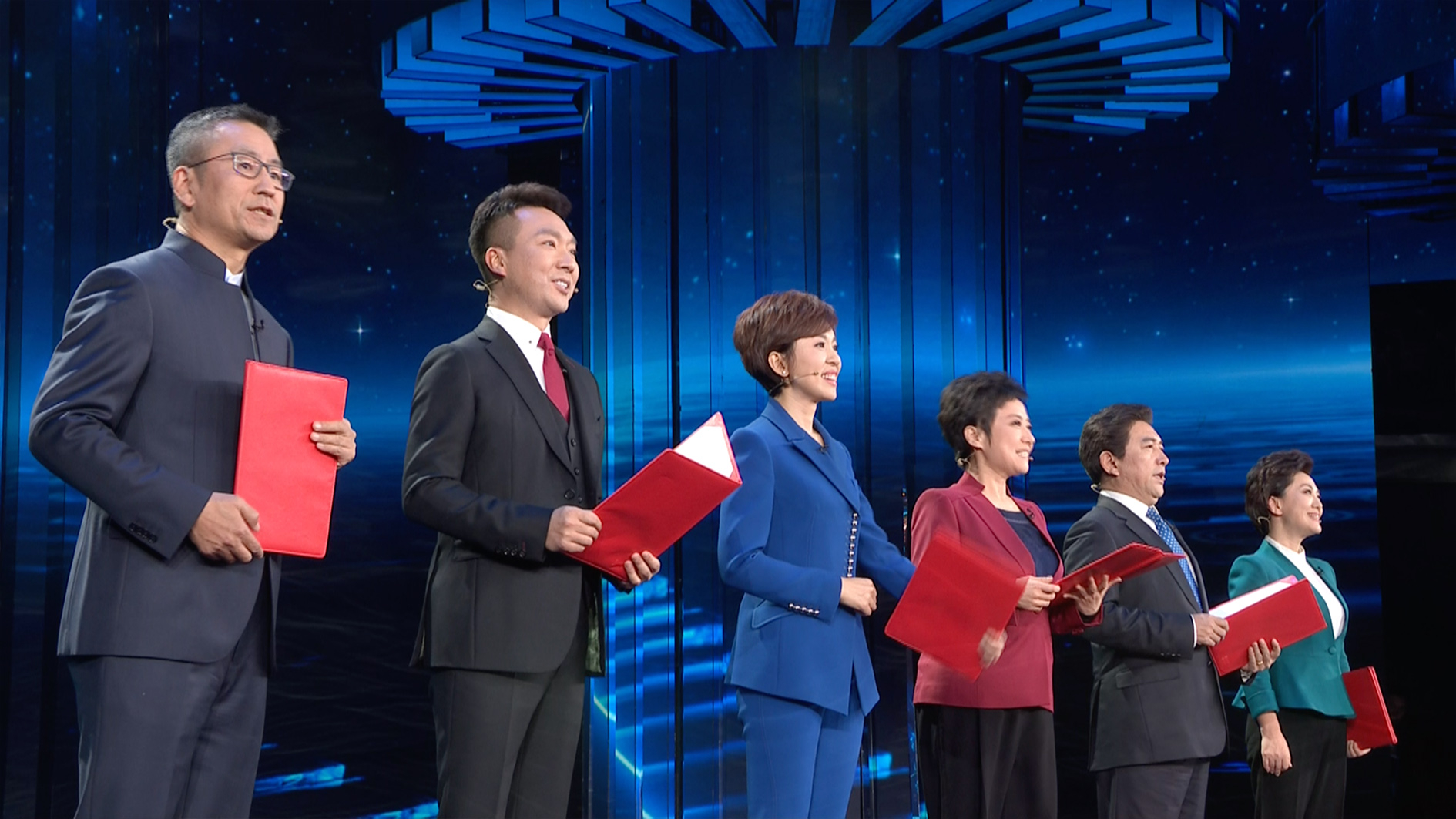 This year, an impromptu segment without any rehearsal was added to the gala for the first time. The new program was released on Friday afternoon, only hours before the gala's live broadcast.
Named "The Bridge of Love", the segment featured CMG anchors paying their respects to those battling the outbreak of novel coronavirus. An article was written by CMG anchor Bai Yansong, and read by his five other colleagues.
The virus outbreak has caused at least 41 deaths, with 1,287 confirmed cases domestically and 19 abroad after being first reported in Wuhan City, central China's Hubei Province in December 2019.
Diverse in genre, traditions blend with new trends
Chinese singer Jackson Wang (1L), Show Lo (C) and Yi Yangqianxi (2R) dance on stage. /CMG Photo
In keeping with tradition, the gala featured segments which included singing and dancing, cross talk, sketches, traditional opera and martial arts performances, as well as magic and acrobatics shows.
Besides tradition, this year's gala also saw the inclusion of trending items among young people. For instance, a trending song on social media last year, "Wild Wolf Disco", was adapted into a Spring Festival style.
Performed by Chinese singers William Chan, Zhang Yixing and Dong Baoshi, the segment wowed the audience, in particular younger generations who were familiar with the song.
Meanwhile, many actors familiar to the Chinese audience through television dramas and films made appearances on stage in sketches.
Some local accents were also featured in the program, bringing audiences from different areas closer to the show.
Interactive new ways of watching the gala
An acrobatic show at the 2020 Spring Festival Gala. /CMG Photo
This year's gala promoted interactive red envelop snatching as usual. According to Kuaishou Technology, the exclusive cooperative partner of this year's gala, red envelope grabbing and other user interactions hit a record number of 63.9 billion incidences during the live show.
A total of one billion yuan (144 million U.S. dollars) was handed out during five rounds of virtual "red envelopes", with at least 2.21 million people taking part.
As video sharing is a new trend among young people, watching the live broadcast via smartphone has attracted the youth, allowing them to exchange comments and feelings while watching.
The gala, which used to be live broadcast only through television sets, has embraced new platforms in recent years, from streaming websites to video sharing apps. The cooperation between different media is a rising trend.
Showing respect to those contributing to the nation
The 2020 Spring Festival Gala. /CMG Photo
The gala also paid respects to famous names in Chinese history to be remembered.
In a music video displayed during the gala, Tu Youyou, Chinese pharmaceutical chemist and Nobel Prize laureate, as well as Yuan Longping, an agronomist who developed the first hybrid rice varieties, were recognized. Both of them were rewarded with the top honor of Medal of the Republic.
Meanwhile, China's goal to eradicate poverty in 2020 was also highlighted during the show.