More than 130 music acts will be presented in China's biggest online benefit concert ever on at 7:30 on May 4 evening, headlined by Faye Wong, Lang Lang, Lay Zhang, Kris Wu, Cai Xukun and many more.
However, it will be a cloud concert only as performing venues have not yet reopened due to the COVID-19 pandemic.
Gao Xiaosong, an acclaimed musical artist, and chairman of Alibaba Entertainment Strategic Committee and co-founder of Alibaba Music Group, will take the role of general curator for the cloud concert to support the global fight against the evolving pandemic and encourage everyone seeking to restart their ordinary life and work after the nightmare.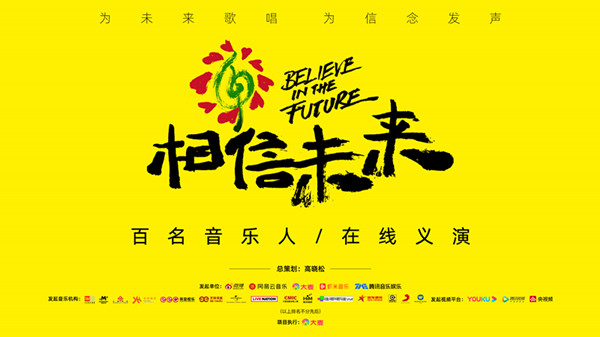 Gao said that the epidemic has united China like never before, and the music industry is of no exception. "Through these singing performances, we hope to encourage everyone restarting their life's journey and their struggle to survive. Our music comes from this land, and we are willing to give back to this land through every single musical note."

The organizers revealed all-star lineup on Saturday, which includes veteran performers like Faye Wong, Na Ying, Lao Lang, Wang Feng, Pu Shu, Zhou Xun, Karen Mok, new generation of pop singers such as Cai Xukun, Lu Han, Kris Wu, Jackson Yee, Karry Wang, Lay Zhang, Nana Ouyang, Huo Zun, as well as other stellar singers, bands and individual musicians, such as JJ Lin, G.E.M., Black Panther, Penicillin, Li Yundi, GAI, Rocket Girls. Even Chinese national table tennis team will also join this entertainment feast.
The special concert is named "Believe in the Future", with a slogan of "singing for the future, voicing our faith," and will focus on "coping with anxiety and returning to normal." Organizers said the music styles on show range from pop, rock, folk to classical.
The project will be free of sponsorships and commercials, and offer free music publishing rights. Damai.cn, Xiami Music, NetEase Cloud Music, Sina Weibo and Tencent Music Entertainment Group are the initiators and co-organizers of the show, while big record and live show corporations from international giants Universal Music Group, Sony Music Entertainment, Live Nation, to Chinese domestic Modern Sky Entertainment and Taihe Music Group are giving their full support.
Renowned TV hosts, Bai Yansong, Wang Han and Hu Qiaohua, known as Hua Shao, will host the show, which will be livecast on various video streaming platforms, including Youku, Tencent Video and Yangshipin. China.org.cn will also broadcast it.
Organizers said the benefit concert project will eventually hold three to four shows starting with the one on May 4.
Performing arts markets around the world have been shut down for months due to the outbreak of COVID-19. A report from the Lighthouse Research Institute pointed out that innovative online shows -- from cloud music festivals, cloud concert to cloud theater -- could be a way out before the reopening of the market.
The virtual Chinese benefit concert is believed to be a response to various virtual concerts held worldwide to support the fight against the pandemic.