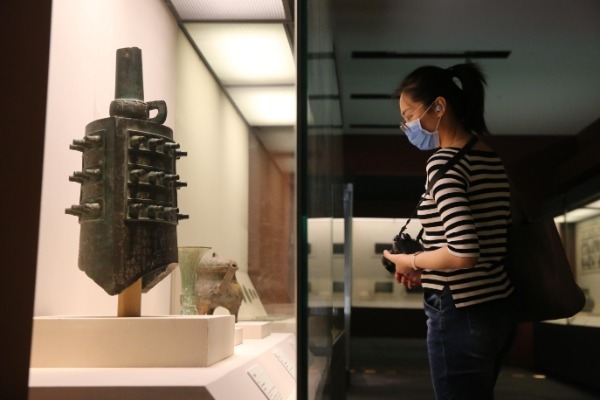 Highly-rated historical dramas have become an additional channel to promote China's glorious past, arousing a great deal of public interest in the events, figures, arts, culture and social norms of the featured periods. The Longest Day in Chang'an, for example, a 2019 suspense drama, brought the zenith of the Tang Dynasty (618-907) into the limelight.
Now, public enthusiasm has been ignited for the Song Dynasty (960-1279), thanks to the popularity of Serenade of Peaceful Joy, a series currently airing online and on TV which revolves around the life of Emperor Renzong. Every aspect of social life during the dynasty is laid out before the eyes of the viewer through the costumes, props and makeup. The distinguished hat worn by Song Dynasty officials, which features two elongated protruding side flaps, has even inspired people to make similar headwear as a way to keep social distance in the wake of the prevailing pandemic.
Paintings and calligraphy are no doubt one of the dynasty's greatest legacies, which the drama celebrates by using examples of them to decorate the walls and screens in the imperial court and the residences of the upper class.
Meanwhile, at the National Museum of China, people can also enjoy the real artistic brilliance of the Song Dynasty by visiting the permanent exhibition, Classical Painting and Calligraphy of Ancient China.
The exhibition gathers 52 artworks from the National Museum's collection, which navigate the evolution of classical Chinese ink art since the 10th century, beginning with the Song Dynasty, through to the early 20th century and the fall of the Qing Dynasty (1644-1911).