Archaeologists recently unveiled newly discovered city ruins in central Henan province, which reveal that Chinese civilization is over 5,300 years old.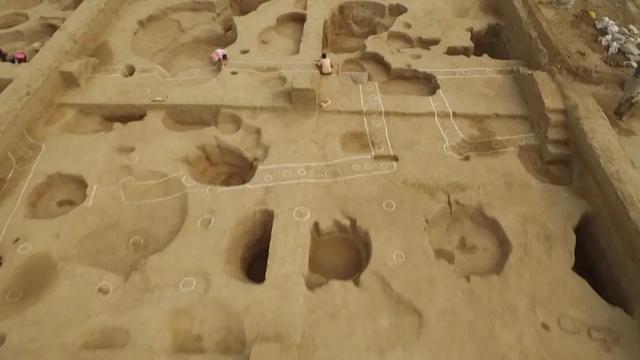 The ruins, with an area of 1.17 million square meters, lie two kilometers south of the Yellow River at Shuanghuaishu in the township of Heluo, Gongyi city. The ruins are one of the largest tribal clusters of the middle and late phases of Yangshao Culture, emerging around 7,000 years ago during the Neolithic Age.
Layers of ring trenches and city walls can still be spotted at the site and more than 1,700 tombs have been uncovered that are neatly arranged into three blocks. Amid the residential areas, the remains of three sacrificial platforms stand as a reminder of ancient rituals.
Relics such as a utensil consisting of nine pottery artworks resembling the Big Dipper constellation, and a tiny sculpture carved like a domesticated silkworm, have demonstrated the site's immeasurable value to archaeologists and historians.
Li Boqian, senior scientist and professor at Peking University, said, the location of the site coincides with the descriptions from the "Book of Changes", a classic of early Chinese philosophy.
A section of the classic depicts a horse ascending from the Yellow River carrying a mystic map, while a turtle emerges from the Luo River with a book on its back.
"Heluo town is situated at the estuary where the Luo River flows into the Yellow River. Therefore, the ruins can definitely be considered as part of the Ancient State of the Yellow River and Luo River", Li explained.
The professor also presumes that the ancient city was probably active when the Yellow Emperor, generally known as the ancestor of the Chinese people, ruled the state.
According to Li, the sculpture of the silkworm also provides evidence of ancient silk production. This is a significant discovery following unearthed ancient silk products at Wanggou village, Xingyang city.
The discovery proves that silk production was invented 5,300 years ago alongside the middle reach of the Yellow River, Li expounded.
The ruins, as well as being an early example of the transformation of the tribal system into hierarchic institutions, confirm that the Chinese civilization has indeed lasted for more than 5,000 years.