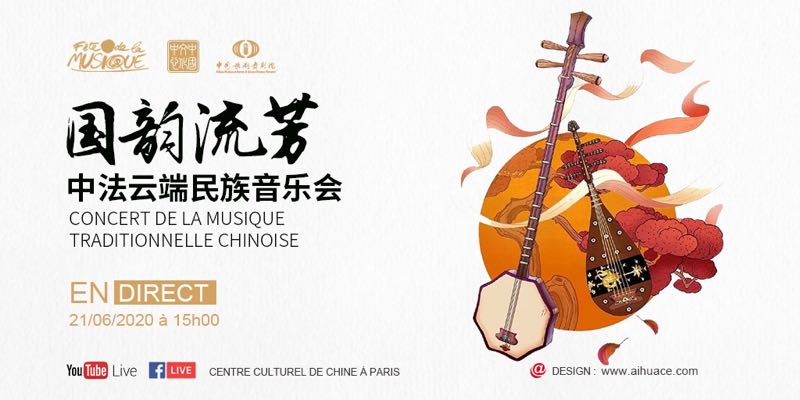 To convey the profound friendship between the people of China and France, and as the European Music Festival unfolds, the China Cultural Center in Paris joined hands with China National Opera & Dance Drama Theater, along with Chinese artists in France and students at the center and successfully held Poetic Fragrance from China: Traditional Chinese Music Concert, an online concert of traditional Chinese music. Chinese ambassador to France Lu Shaye and former French prime minister Jean-Pierre Raffarin delivered speeches at the opening ceremony. Artists from both home and abroad stepped onto the same stage and performed online for audiences of both China and France, sending out prayers for a winning battle against COVID-19 and best wishes for the safety of the people. It marked a new chapter of friendship between China and France.
As put by Chinese Ambassador to France Lu Shaye in his speech, Chinese folk musical instruments are the crystallization of 5,000 years of Chinese civilization, and a gem in world culture. As 39th French Musical Festival opens, artists from the China National Opera & Drama Dance Theater and teachers and students from the China Cultural Center in Paris are joining hands to present nine classic Chinese and French pieces played with traditional Chinese instruments. He praised the long-held cultural exchanges between China and France. Ever since the onset of COVID-19, China and France have kept watch and helped one another. The two have shared weal and woe, worked closely with one another and jointly pushed forward international cooperation in the fight against COVID-19. As the phrase "Unis nous vaincrons" goes, China and France have penned a new chpater in friendship. He also stressed that even though viruses know no borders, neither does love. This unprecedented pandemic once again proves humans share a common future. Only if countries around the world work together can we build a better and more beautiful world. The pandemic allowed us to feel closer to the people of the world, and a deeper understanding of one another is more important than ever.
Former Franch prime minister Jean-Pierre Raffarin opened his speech with "xiexie", the Chinese term for "thank you". He expressed gratitude toward artists who have contributed to make this music festival possible and toward friends who have helped nurture the cultural relation between China and France. He stressed that culture lies at the core of the Sino-French relationship. China and France are both ancient civilizations. Culture is an indispensible part in both countries for mutual understanding and respect to deepen communications and exchange at an emotional level. "COVID-19 has harmed the health of human beings, and forced us to distance ourselves from others and close ourselves up. Nevertheless, we all know that this global challenge can only be conquered through cooperation. Culture plays a vital role in the promotion of the cooperative spirit in global development. I want to thank the artists. Thank you for your thoughts and creativity. I also want to thank us, for having a shared passion for beauty. Music is a celebration, and culture is friendship," he added.